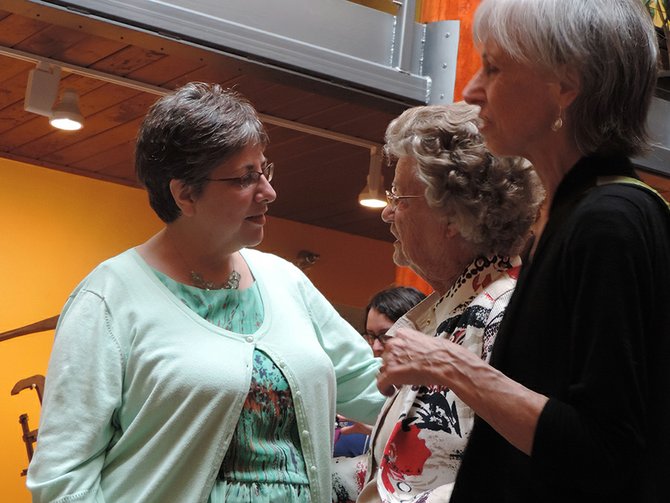 Hugs were a mixed blessing for Connie Nice Monday at the reception in her honor.
Nice, the longtime museum coordinator, had to gingerly accept embraces from well-wishers at the catered reception at The History Museum of Hood River County, attended by about 75 people.
Nice, recovering from shoulder surgery, received an emotional sendoff in the museum atrium, surrounded by new exhibits of tools, marionettes, and art work, the kind of artifacts with stories and personality that she strove to emphasize in her 15 years with the museum.
Nice stepped down this spring for health reasons. In her tenure the museum expanded and remodeled, upgraded its archiving system, and added outreach programs including the Cemetery Tales living history event, which happens for the fifth year in September at Idlewilde Cemetery. Nice also helped with the creation of the Luhr Jensen gallery in the museum, chronicling the life and work of lure manufacturer who died in 2004.
"I loved my job, and the decision was really hard, but once I made it I knew I made the right decision," Nice said. "As much as I will miss everyone, it's time for a new chapter in my life and that's going to lead to a new chapter for the museum as well." Monday was her official last day with the museum.
The History Council, which now oversees the museum, presented Nice with a photo by Nick Bielemeier of Nicholas Photography, an image of Hood River seen with the lights of the bridge over the Columbia River.
What's Next
Debby Chenowith and Dottie Gilbertson of the Heritage Council said the group will now focus on hiring a new coordinator, and is looking at a variety of funding options for repairs to one of the museum's most prominent artifacts, the wheel of the 1901 sternwheeler Henderson, which sits in front of the museum.
Planks on the wheel had dry rotted and fell off one night three weeks ago. It has since been secured. Gilbertson said the council is looking at ways "to make that tragedy a positive, as a way to get people interested in the museum, with some activities and special events."
History Council president Dottie Gilbertson, the person who has worked the most with Nice, said she has been missed since she stepped down in March.
"Connie's had a lot of ideas and she knows how to move forward with new ideas, and the research that is needed. She's a good leader, and was always able to show her enthusiasm. She was very focused on the fact that we were to carry out the mission of the museum," Gilbertson said. "She took the museum from a little place in Hood River that wasn't always visited that much, to become a whole new museum."
"I feel my passion was to instill in the community a deeper understanding of why it's important to preserve our local heritage, and ways that they can do it through programs and events," Nice said. "Cemetery Tales is something I have so much passion for, and to see that continuing. It embodies what I believe, that everyone's story deserves to be told and those are the stories we want to share."
She said the building, expanded in 2011, "is the obvious more visible legacy, but I hope what I have brought to the community is a deep understanding and love of who our community is and why this is important to preserve a trunk or a dress or a letter and how can that have an impact on the next generation. That's what it's all about as far as I'm concerned."
Gilbertson noted that Nice had no experience in museum work when she was hired as part-time manager in 1999 but in the coming years educated herself on museums and worked to expand the services of the Hood River museum.
"She learned about museums and what they're all about and put that knowledge to work," she said.
"Connie's been gone since March, and we sure understand the need for this museum for fundraising," Gilbertson said, noting that priorities include funding for archival rental space, an AmeriCorps volunteer, and the Cemetery Tales program.
The Heritage Council is moving ahead with Cemetery Tales, which this year will honor the memory of Virginia Baldwin and Scott Johnson, Hood River residents who both died in the past week. Baldwin was a longtime museum volunteer and Johnson did extensive volunteer work in recent years, including performing as Luhr Jensen in the 2012 Cemetery Tales.
Gilbertson said that when Nice arrived, the museum was coordinated by a group of volunteers, including Baldwin, who were initially resistant to change.
"She was good about how to get that change. She managed to go forward, and she really respected those women," said Gilbertson, who started volunteering in 2001.
In her final Hood River News blog, published June 25, Nice wrote, "I leave a much richer person for having had the joy and opportunity to serve as your museum coordinator for Hood River County. I leave feeling truly blessed. I only hope that now as I step down, the community, the Heritage Council, and the County will be able to carry on the baton that I am now passing off to them and keep the museum alive, growing and sustainable.
"I would encourage and inspire you to get involved. Find out what's going on at the museum and volunteer to help in whatever area you can. Continue to buy your tickets and support the annual Cemetery Tales event. Call the Hood River Heritage Council members and encourage them as they work to carry an ever increasing load of financial and operational responsibilities. Ask what you can do to help."