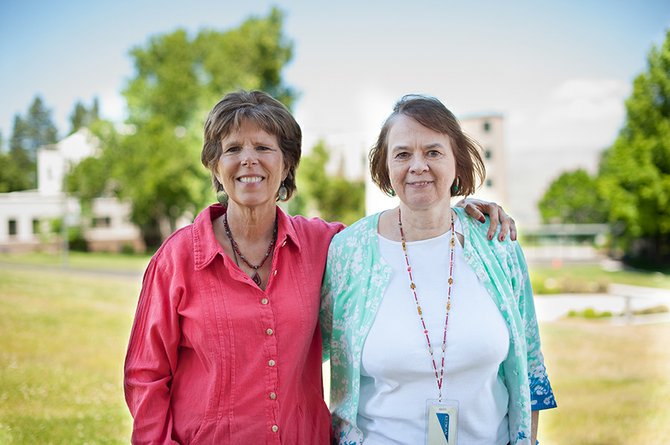 With the end of the 2013-2014 academic year, Columbia Gorge Community College (CGCC) is bidding "adieu" to two longtime members of its academic community.
Jean Ewald, a pre-college specialist who has served as an administrative assistant to the college as well as in other key support roles, is retiring. Having been with the college for 30 years, Ewald has held several different titles over the years, consistently delivering critical, behind-the-scenes support for staff, faculty and students.
"I started in 1984, and my first job as 'Self-Paced Clerk' involved handing out materials to students in business classes, typing, accounting, ten-key, shorthand and such — everything we did was on cassette tapes and slides," Ewald said.
"My role then evolved into helping the Basic Skills department and then taking on the GED (General Educational Development) examiner duty, which has been my favorite job. For years, CGCC has worked with students interested in completing this measure of high school completion by offering classes to develop their skills and administering the exams. I became the first person students would talk to when they would call or come in to talk about completing their GED. Looking back, and particularly in that role, it's always been my hope that I was an encouraging voice for these students, someone who has been able to inspire them to achieve their goals. It always felt great to be a part of their journey even when the work was challenging, which it could be at times. Assisting these students has been a great experience, but my department was also incredible, so I'll really miss being a part of that daily as well. We have really bonded and grown close over the years."
Ewald was hired by Brook Maurer, who is the second CGCC community member retiring this year. As chair of the Pre-College Department and an instructor, Maurer has dedicated the past 31 years of her life to assisting in the hiring of great talent and also helping students recognize their abilities, develop confidence, make changes and attain their educational goals.
"You always want to make a difference in people's lives, and that's been my desire all along," says Maurer, reflecting on not just all the students but on the college. "Since 1983, I've seen the college go from the Treaty Oak Service District in a tiny space under the radio station downtown to what it is today — a healthy, growing and vibrant college on a beautiful campus up on the hill. Getting to this point wasn't easy, but it's come a long way. Everything we've done and worked for to make this a full-service community college, and to develop our department to provide excellent guidance and support to our students, has made us strong and effective."
Ewald, who has nine grandchildren throughout the Northwest, will hit the road this summer to visit a grandchild who lives in Colorado before heading back to help out with the others living closer to home. Post-graduation, Maurer plans to help care for a grandchild who lives here locally, but she's also going to travel and then dive into a new career passion: her hypnotherapy business. Saying goodbye to the college will be hard, but both plan to stay connected, having lunches and getting together with their department colleagues whenever they can.
"Both Jean and Brook have been incredible assets to our college over the years," says Dr. Frank Toda, CGCC's president. "They've played a major role in encouraging students to achieve their dreams and become a truly significant part of our campus fabric. Without a doubt, they will be missed but not forgotten."