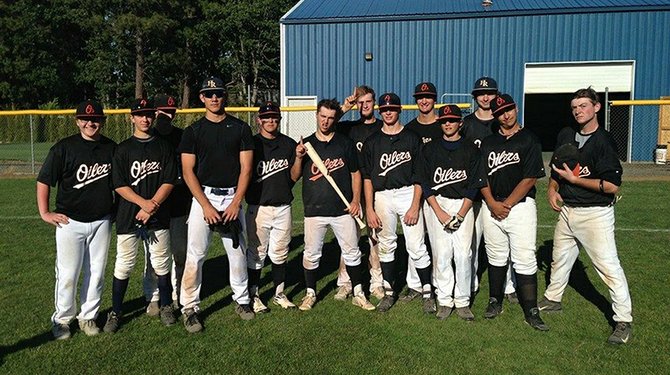 The Hood River Valley High School baseball team, guided by coach Erich Harjo, enjoyed a remarkable 2014 season that ended with the team playing for a state title in the OSAA Class 5A championship game June 7 against Sandy (HRV lost 8-3). The success of that Eagle team has certainly been a notable factor this summer, with many of those same players contributing to a strong Carson Oilers squad that has notched an impressive 7-1 record in the Oregon Junior State Baseball Association.
"The summer league season is going pretty well," said Harjo. "The group of kids we have is really pleasant to be coaching. It's really kind of up to them in regards to how much they want to grind things out this year. They've just been playing outstanding baseball."
Most recently, the Oilers won 6-5 in an eight-inning contest over Vancouver's Mountain View squad June 29 to capture the tournament championship in an eight-team weekend tournament at Fort Vancouver High School. The Oilers posted a 3-1 record and bounced back from a 3-2 loss Saturday to the same Mountain View team that they defeated on Sunday.
The incoming Hood River Valley freshmen duo of Isaiah Enriquez and Morgan Williams helped provide the Oilers with the key offensive hits in Sunday's title contest. Williams had two RBIs and Enriquez hit the game-winning RBI to help propel the Oilers to the win.
Incoming junior Andrew Roberts started on the mound and pitched the first four innings to help lead the Oilers to a 5-3 advantage. Skyler Hunter, also an incoming junior, relieved Roberts and threw the final four frames. After Mountain View knotted it 5-5 in the seventh, the Oilers responded with a run in the eighth on a clutch hit by Enriquez to get the victory.
The Oiler squad is comprised of freshmen, sophomores, juniors, seniors and HRV 2014 graduate Austin Martin. Seniors Willie Ishizaka, Kam Walker and junior Patrick Harvey are three of the Eagle's core group of players on the Oilers squad. Senior-to-be Ryan Ward and incoming junior Kellan Duffy, who were Eagle team leaders last season, play just occasionally for the Oilers, as the two are also competing on a traveling all-star squad that includes many of the top players in the state.
Much like the regular HRVHS season, the Oilers have a split squad with the total 19-player roster consisting of a junior varsity team, coached by Adam Howell, and a varsity level group of older players that compete in weekend tournaments. The JV team plays only weekday games.
"There's lots of freshmen and inexperienced sophomores and juniors on the JV team (1-6 record), which has really taken some lumps" said Harjo. "They're much younger than nearly every team they play against. Having a few freshmen and sophomores on the varsity team allows us an opportunity to get them some valuable playing time while competing at a higher level, so that is a very good experience for them. Enriquez just had a phenomenal tournament last weekend in Vancouver and it was great seeing two freshman have such a solid performance there."
The Oilers hosted a six-team series June 20-22 at Hood River Valley's Traner Field and went undefeated at 4-0 to win the tournament championship. The Oilers will play their next games July 11-13 at a tournament in McMinnville. Another tournament is scheduled for July 18-20.
The Oilers could continue playing after the regular season near the end of the month if they qualify for the OJSBA regional and state playoffs, which appears highly likely for this powerhouse squad.