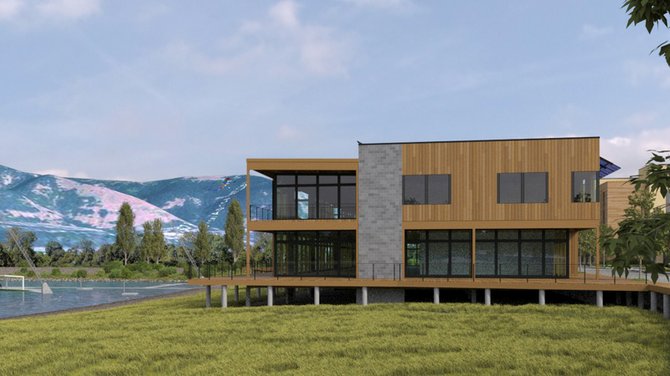 The City of Hood River Planning Commission has set a public hearing for Monday, July 7, to decide on whether a hotel and retail development proposed for the Nichols Boat Basin is in compliance with the city's comprehensive plan.
The project, referred to as Nichols Landing, is being developed by Naito Development LLC out of Portland and would consist of a four-story, 88-room Hampton Inn & Suites hotel as well as 20,000 square feet of retail space located at the south end of the Nichols Boat Basin.
Naito Development has been trying to develop the property for years but has encountered opposition from the Friends of the Hood River Waterfront. The proposal was initially approved by the city for development, but Friends has appealed the decision twice to the Oregon Land Use Board of Appeals (LUBA), which has remanded the proposal as many times to the city.
LUBA stated that the city did not properly apply areas of its comprehensive plan when evaluating the proposal, specifically "Goal 7, Natural Disaster Implementation Strategy 4," which requires that, "No permanent structure shall be erected within a flood hazard area unless the structure or the area meets the criteria set forth in the [Flood Plain] overlay zone."
Steve Wheeler, city manager, reported that the hearing will be narrow in scope and address "what the impact… the footprint [of the development] would have on the floodplain."
According to Wheeler, proponents of the development (Naito Development LLC) must submit a report at the hearing that, at a minimum, provides a description of the proposed use, the impact on the area, a diagram of the proposed structure and the relation to the floodplain, and proposed mitigating measures.
Wheeler said after the city holds the hearing, it was required by LUBA to render a final decision by Aug. 25. He added that an additional hearing may be required and would be held July 15 and an appeal hearing is tentatively scheduled for August 11 should any part decide to appeal the city's preliminary decision on the matter.
The July 7 public hearing will take place at 5:30 p.m. in city council chambers located at 211 Second St., Hood River.