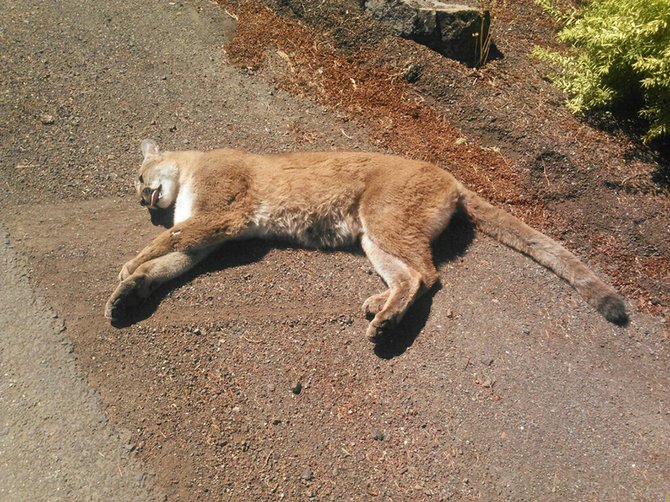 Kean Dayley was driving on Country Club Road at around 3 p.m. on Wednesday when all of a sudden, he noticed a tawny flash in his periphery.
"I was headed down the hill and saw a blur in the side of my eye," Dayley reported, who had just finished lunch at his home on Country Club Road, and was returning to Les Schwab, where he is the assistant manager. "I was trying to figure out what it was."
He then heard "a big thump," from his left rear tire of the company pickup he was driving, came to a stop, and looked behind him.
"My first thought was that it was a deer, and then I saw it in the rearview mirror," Dayley said.
The image in his mirror wasn't that of a deer, though, but rather a predator of deer: a cougar, lying motionless in the road.
Dayley said the animal darted out from the front yard of a "big white house" located near the north end of Country Club Road, not far from the Hood River city limits. Dayley, and the drivers of two other cars that had stopped, cautiously approached the cougar, but it had taken "a pretty good shot to the head," according to Dayley, and was already dead.
The truck, however, was fine — other than some fur on the tires — Dayley reported. While a bystander called 911, more and more people began to gather to get a glimpse of the big cat, which he estimated was approximately "five or six feet from nose to tail," female, and perhaps three years of age.
"There was probably 30 to 40 people around," he said of the bystanders. "It was crazy."
About 15 minutes later, Dayley said a Hood River County Public Works Vehicle came to retrieve the body of the animal. Mikel Diwan, public works director, said the Oregon Department of Fish and Wildlife arrived to take what he believed was a sample for testing, as well as the animal's reproductive organs. After the samples were collected, Diwan said the cougar was "disposed of in a secluded area" by public works.
A spokesperson for ODFW's The Dalles Field Office confirmed that samples had been taken to the facility for testing. She reported ODFW will often take a tooth to determine the age of the cougar, and in the case of females, will collect the reproductive tracts in order to determine how many litters of kittens the female may have had.
Diwan said the county road foreman, Bill Wheat, was the individual who retrieved the animal. He added Wheat had been doing the job "for many, many years," and had never had a call to pick up a cougar, at least not in the daytime.
Dayley said he's never seen a cougar in real life before. When asked if he was surprised to see one on that section of Country Club — approximately a mile from his house — Dayley said he was.
"That close to home, you would be too," he said.