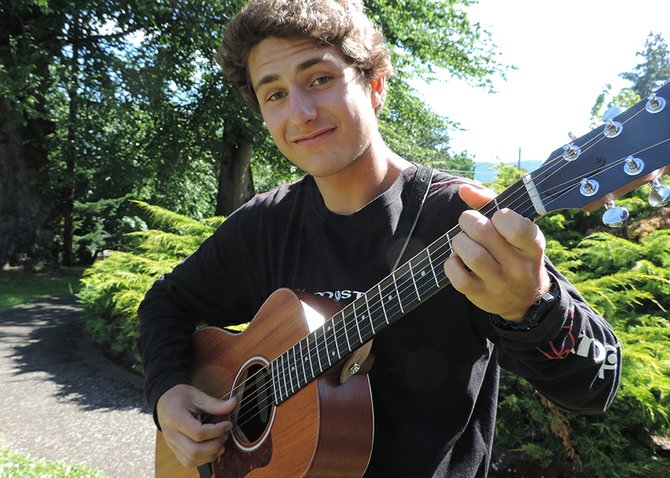 Hood River Valley High School senior Noah Tauscher, 17, is getting ready for the Grammys.
No, not the Grammy Awards — Grammy Camp, an intensive 10-day music camp held at the University of Southern California July 11-24. While there, he'll study song structure, harmony, melody, lyric writing and vocal technique.
Auditions for Grammy Camp are open to the public, but the process is very selective; he was required to submit a total of five videos, two of himself playing original songs, two featuring cover songs, and a five-minute spoken video essay explaining why he was the right match for the camp.
Tauscher was ultimately selected for the singer/songwriter track, one of eight music career tracks featured at the camp.
He's looking forward to expanding his knowledge and "making connections with the other kids going to the camp, as well as the faculty in the Grammy Foundation and at University of Southern California," he said.
Those connections with faculty will be useful in the future, as he has his sights set on attending USC after high school. In fact, he learned about Grammy Camp while searching for college information online.
"I really, really want to attend University of Southern California," he said. "They have a program called Popular Music in their Thornton College of Music, and it's exactly what I want to do. This program is the study of music in the modern world, and study of the music industry.
"I learned about this camp while investigating the programs and such at USC," he added.
Tauscher has made a name for himself locally as a singer and songwriter. He regularly performs around town, playing at venues including Mike's Ice Cream and The Sandbar Café.
He's also performed in the Hood River Valley High School musical, under the direction of Mark Steighner, every year he's attended: He had small roles in" Les Miserables" and "Avalon", and larger roles in "Legally Blonde "(he played Warner Huntington III) and Steighner's "Reach 4 It" (as finalist Chris Ranier). This fall, he'll play the role of the Baker, a primary role in the musical Into the Woods by Stephen Sondheim
As far as songwriting goes, he describes his style as "a kind of acoustic style, folky, hip-hop mix. I like to write in different styles to challenge myself."
His songs come from personal experiences, and, as he always has his phone on him, "if there's a certain situation I'm in or what not that I think deserves analyzing, I'll write a little poetry in my Notes section in my iPhone," he said. "It kind of marinates in my mind for a while, and then I'll come back to it and put together the rest of the song."
Although he now plays several instruments, he didn't initially enjoy it. He started playing guitar in the sixth grade, "but only for a few months; I hated it," he said. His guitar lay untouched until his freshman year of high school, when he started playing again.
"I started playing simply to accompany my voice," he said.
Besides guitar, he also plays marimba, and a little banjo and ukulele, he said.
With such a musical background, it's probably not surprising that he spends a lot of his free time "jamming with friends." But he also enjoys kiteboarding, and works three days a week at New Wind Kite School, where he will soon teach kiteboarding lessons.
He also runs a program called Adventure Camp.
"David Van Cott rallied a bunch of fifth and sixth graders together and we do fun stuff four days a week," he said.
And, if that wasn't enough, he's a business rep for an up and coming hat and clothing company called Findlay Hats, based out of Portland.
When summer is over, he's got a full class schedule to make senior year even busier. He's registered to take AP Spanish, honors pre-calculus, AP Physics, AP Music Theory/Independent Music Study, Chamber Singers, AP government and Writing 121/122.
Tauscher was born in Sequim, Wash., on May 10, 1997. He moved to Hood River with his family — older brother Elliott, now 22, and parents Guy and Karin — in elementary school, and has attended schools in the Hood River Valley School District since first grade.
"I love growing up and living in Hood River," he said. "There's always a ton to do, and you always feel safe. The community here is amazing, too.
"One thing I wish we head here is a more focused music community," he said. "There are a few voice teachers around town, but teaching mostly classical/musical theatre techniques. I wish there was more focus on contemporary and popular music… but that's just me."
To hear Tauscher perform both original compositions and covers of songs by Ed Sheeran, John Mayer and Matt Nathanson, visit www.youtube.com/NoahTauscher.