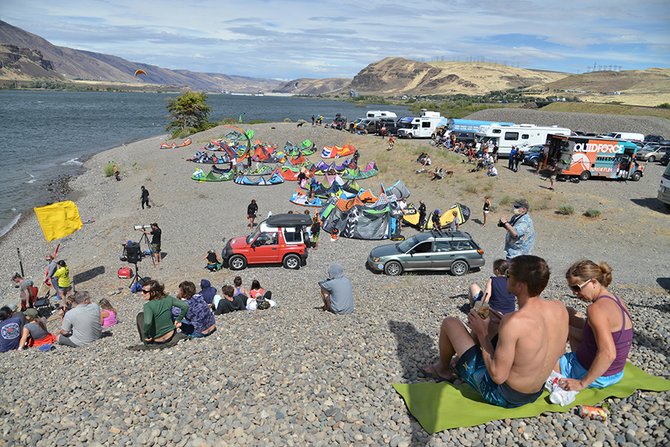 The second annual Hood River Huckfest was held last Thursday under sunny skies and moderate wind conditions, and at the end of several high-flying rounds, the big-air kiteboarding event had its champions.
With mid-day winds reaching into the 30s, the field of junior riders went first, where the two competitors who posted the highest jumps of the six-minute heat – as measured by arm-mounted Xensr devices – would earn places in the ensuing men's rounds. Chase Hasch and Austin Keillor finished in that order with jumps of 40.72 and 39.62 feet; they were then eliminated in the next two men's rounds.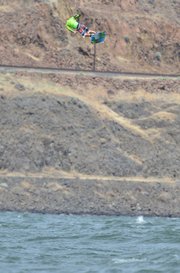 The first of two women's heats followed; Colleen Carroll, Laura Maher, Lindsay McClure and Tonia Farman advanced to the final heat held later in the afternoon, and in that heat Maher posted the highest jump, 31.81 feet, to win the women's' division, followed by Carroll in second and Farman in third. Carroll posted the overall highest jump of the day for the women in her first round at a height of 33.32 ft.
Men's action saw an improvement in numbers over last year's inaugural contest, during which the wind peaked in the opening round of the contest and tapered-off throughout the afternoon as the elimination rounds progressed. Such was the case again this year, but winds held stronger and longer, giving competitors a better opportunity test their jumping abilities against one another and their own egos.
Four rounds of elimination whittled the 32-rider men's field down to a final heat of four between Blaine Baker, Reed Brady, Mike Haase and Jim Bison. As a testament to the simplistic and grass-roots nature of the contest, several pro-level kiteboarders didn't qualify for the finals. With the simple objective of jumping as high as possible, flashy tricks held no weight, thus putting the pros on an even keel with those who lack flashy technical skills, but have mastered the "meat-hucking" abilities that classic Gorge wind and waves provide.

Wind had calmed down considerably by the final six-minute heat, which saw Brady beat out Bison by a hair, literally, with a final round jump of 37.29 to Bison's 37.17 to win the contest. Haase was third and Baker fourth.
Earlier in the afternoon, in the first round when the wind was the strongest, Gorge local Matt Ellsasser posted the overall highest jump of the day at 50.15. Hasse wasn't far behind at just over 50 feet.
For complete results, individual heights and photos: www.facebook.com/hoodriverhuckfest.