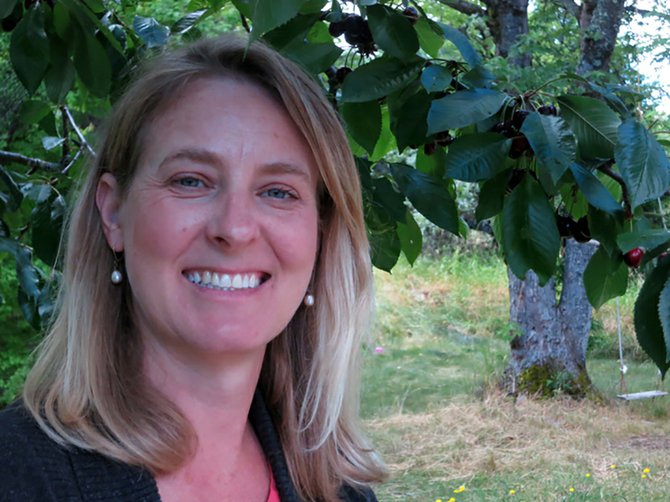 The Hood River Valley Residents Committee hired Heather Staten in early June to serve as its part time executive director.
Staten has served on the Board of HRVRC as Vice President for the past year. She grew up on a farm in northern Virginia, helping with her family's large garden and showing Hereford cattle in 4-H. Heather moved to Oregon in 2002 with her husband Ben Bonham and their children to follow their dream of country living.
Staten is inspired by Oregon's unique land-use system and its ability to protect farmland, manage growth and deliver exceptional quality of life to our communities. Since moving to Hood River, Staten has been engaged in community activism and outreach. She was instrumental in the colossal effort to reopen the Hood River County Library in 2011 after a local ballot measure passed. Staten served on the newly formed Hood River County Library District Board from 2011-2013 and she currently serves on the Hood River Library Foundation Board and Hood River County School District Budget Committee.
"Heather has a keen sense of local and state government processes and ability to research issues in depth," said Polly Wood, board member. "Her environmental and wise land-use ethic meshes perfectly with HRVRC's mission to protect farm and forest land while promoting the livability of its cities and rural communities though advocacy, education and monitoring land-use processes and decisions."
Currently serving on the Hood River Valley Residents Committee Board are Ron Cohen, Peter Cornelison, Margo Earley, Scott Franke, Jeff Hunter, Judie Hanel, Nick Kraemer, Mike McCarthy, Larry Martin and Polly Wood. HRVRC also gets a helping hand from administrative assistant Kristyn Fix. Jonathan Graca previously served as Committee executive director.
The Residents Committee will hold its 37th Annual meeting on Sunday, July 20, from 3:30 - 6:30 p.m. Among the guest speakers for the event will be Brett VandenHeuvel from Columbia Riverkeeper, who will discuss the coal and oil train issues in the Gorge.
For details, visit their website at www.hrvrc.org.