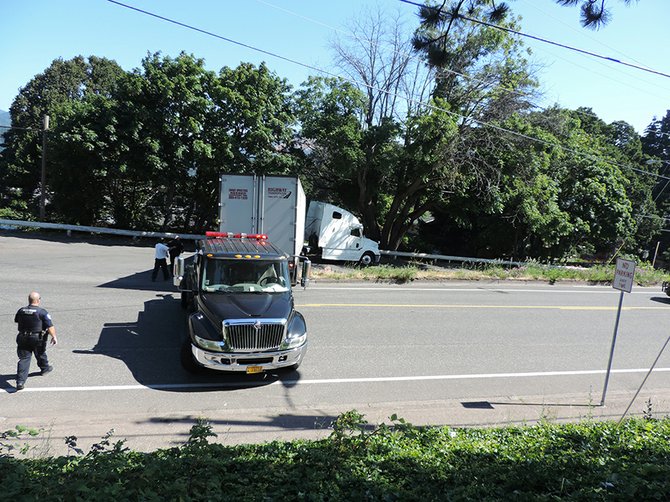 Jose Guzman of Guzman Towing maneuvers a Highway Transportation trailer weighing a total of 60,000 pounds after it got stuck Tuesday at the hairpin intersection of Oak and Cascade streets. Public works closed Oak and Cascade between 13th and 20th for about a half-hour.
The driver, of Yuba City, Calif., who declined to identify himself, said he was enroute with packing materials to Full Sail Brewery when he missed the downtown Cascade intersection.
Heading west on Oak he followed GPS instructions in taking the hard right eastbound onto Cascade, and lacked enough room on his left to complete the sweep. The truck, jackknifed and pointing downhill, could not move forward or backward having nudged the guardrail on the north side of Cascade. The front left rear wheel set of the truck had locked onto the corner of the trailer, and the rear right wheel set of the trailer got hung up on the curve where Oak and Cascade pinch.
Guzman moved his truck and cables five times to lift the wheels off the curb, and then was able to drag the trailer five feet west, straightening it so the truck could move.
"I've never seen it happen at this intersection, but drivers are always trying to make these tight turns and getting stuck," Guzman said. The driver was not cited; said Officer Erin Mason, "his tow bill will be high enough."