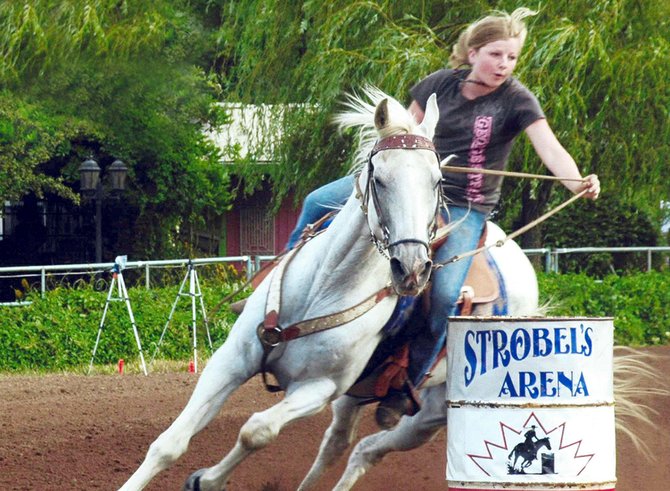 While many girls their age are relaxing in the sunshine, hanging out with friends, sleeping-in and catching up on the latest Zac Efron movies, Josee Claxton and Maddie May Lewis have been spending their summer vacation taking care of their animals, training and traveling the Northwest to compete in the summer rodeo and barrel racing circuits.
Most recently, the two — Claxton, a 13-year-old middle- valley resident, and Lewis, a 17-year-old Parkdale resident — traveled to Scappoose over the July 4 holiday weekend to compete in the highly regarded Let Freedom Ring Barrel Race, which draws many of the region's top riders to compete for thousands of dollars in prize money.
For Claxton, although she has been barrel racing since she was 10, this was her first major contest.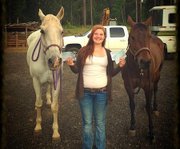 "She has been getting pretty competitive with her times, so we decided to enter her in her first really big barrel race," said Claxton's mother, Crystal Beam, who is an accomplished barrel racer in her own right. "She ended up winning two out of the three days to bring home a couple checks."
Claxton competed in the youth novice division of the contest and took home about the same amount as her entry fees, which were $160.
She was riding Casper, a 21- year-old that Beam described as a "seasoned old rodeo warrior." She said the family bought Casper from another standout Hood River rider and barrel racer, Chantelle Carter, who has progressed enough to need a younger, faster horse.
Lewis took home considerably more in prize money — $700 in total — for finishing second two out of three days in the 5D division. Lewis rode her horse, Mable, for the first two days of the contest. On the third day Mable was too sore and couldn't compete, so Lewis borrowed Casper from Claxton and won another paycheck.