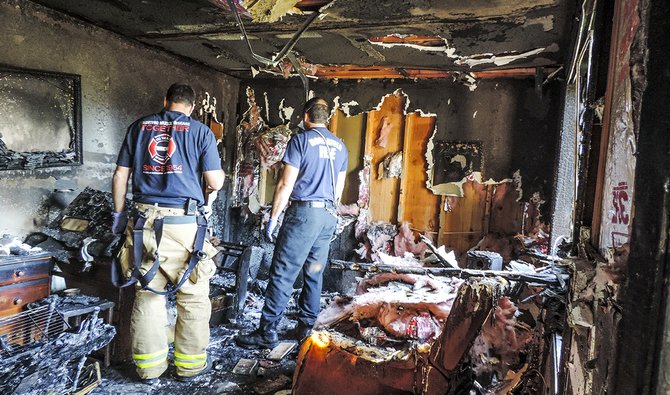 A Thursday night fire gutted a ground-floor apartment at Indian Creek Court Apartments on the Heights.
Firefighters from Wy'east Fire District and Westside, Cascade Locks and Parkdale fire departments backed up Hood River Fire and EMS in the 8 p.m. blaze.
A 44-year-old woman, the sole occupant, was treated and released by HRFD after experiencing minor burns and smoke inhalation.
Her dog perished in the fire. Residents returned to their homes late Thursday night. Capt. Manuel Irusta said the fire was evidently an accident but at press time he and fellow captains Dave Smith and Clayton McRea were still looking through the severely burned apartment and had not determined the cause.
A neighbor, Shawn Browning, 19, knocked down the flames with a garden hose in back of the apartment, located along the Indian Creek ravine at the northeast corner of the apartment complex, at 8th and Pacific.
"At first we thought it was a burn pile but then we saw it was black smoke so we knew it was fire. About the same time Hood River Police and Hood River County Sheriff 's deputies arrived with fire extinguishers," said Browning, interviewed Friday morning at Hood River News/Columbia Gorge Press, where he works.
Responding were Officer Andy Rau and deputies Marc Smith and Travis Paulsen. Smith was flagged down by a citizen, according to Sheriff Matt English, who said, "the bulk of the fire was put out with the fire extinguishers."
"They did a good job," Irusta said.
Browning said, "It went up pretty quick, it started in the living room and went into the kitchen. The whole front side was burned."
Smoke damage was evident in the back window of the apartment. "We ran up to the apartment above to make sure everyone was out," Browning said.
Irusta said the occupant had already alerted her upstairs neighbor, and everyone in the eight-unit building got out safely. "I've seen a bunch of movies of people running through fires and checking for people.
When I got up there it was just thick and the burning plastic was just harsh. My eyes are still kind of burnt from it," Browning said.