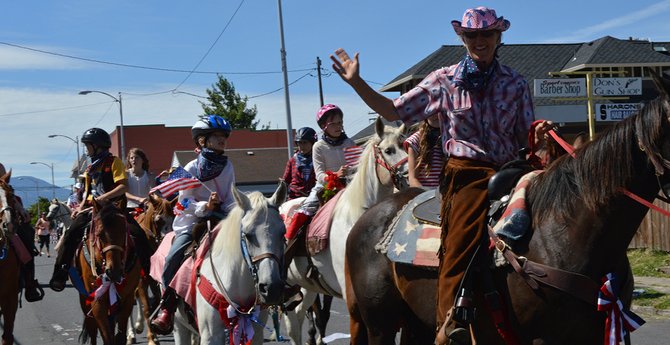 Double Mountain Horse Ranch in Hood River offers a unique equestrian experience for kids, in the weeklong Pony Pal program, done in conjunction with Hood River Community Education.
Each day from 8:30 a.m. to 4:30 p.m. participants learn to care for and ride horses, and do art projects such as painting horseshoes for picture frames and weaving twine for halters and lead ropes. They learn about horse anatomy and caring for the animal's coat, teeth and hooves.
To help in the anatomy lesson, a white horse is painted with colorcoded watercolors. Riders work in teams with others in their age group.
At the end of the week, the group goes on a ride for ice cream to Twin Peaks restaurant, on Tucker Road near the ranch, which is at 3995 Portland Drive.
The weeks are also "unplugged"; no iPhones or other devices are allowed.
"We want kids to connect with each other and with their horses," owner Margo Goodman said.
This is year two of the Pony Pal camp; Double Mountain was formed three years ago. Sessions are the weeks of July 14 and July 21, and Aug. 4 and Aug. 18. Weekly cost is $300 per rider, ages 6 and up. Horses are varied breeds on their "second career," usually adopted from foreclosure, the racetrack or divorces, according to Goodman.
"We take them and rehome them or match them to kids who can take care of them," she said.
Go to ridinginhoodriver. com or call 541-513-1152 for details.
Double Mountain provides a variety of family-based guided trail rides in the Gorge. Goodman said the ranch this week received a permit to use a portion of the Pacific Crest Trail that will include a ride under Dry Creek Falls.