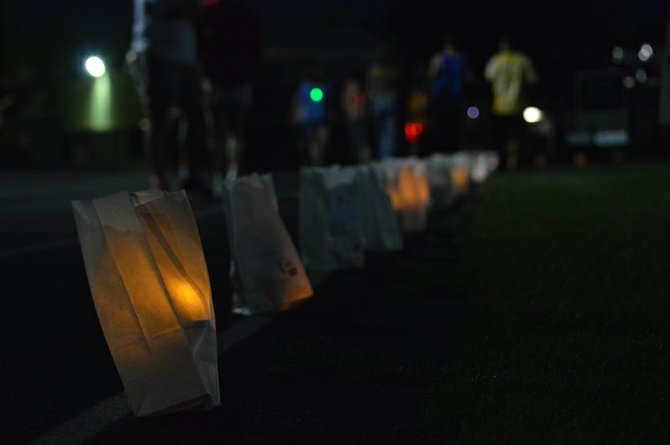 "Superheroes" will be the theme of this year's Relay For Life of the Columbia Gorge, the community gathering on July 19-20 for the fight against cancer.
For 24 hours starting at 9 a.m. Saturday, teams will walk around the Hood River Valley High School track to raise funds, and awareness, for the American Cancer Society.
Music, speakers, an ice cream social, a midnight fun run/walk and other events are open to the public, whether or not they are participating as walkers. The opening ceremony will be at 10 a.m. on the track. Event chair Veronica Moline said, "We will have a lot more speakers this year, to just let people know more," she said. "That's part of it, other people reaching out to survivors or caregivers, and hearing from someone else who has gone through what you're going through, people who can give you advice on what you're going through."
New this year is the 3 p.m. "Fight Back" ceremony, open to anyone, with "encouraging ways to fight back," Moline said. Survivor Libby Mongue of Vancouver will speak. As of Monday, 22 teams have registered for Relay For Life, one short of last year, but two teams had joined on the day of the event in 2013.
To register your team, or sign up for the midnight fun run, go to www.relayforlife.org. The fun run equates to 3.1 miles, or 12.4 miles around the track. Things get started with registration at 8 a.m. and the Survivor Breakfast, now in its second year, at 8:30 a.m.
"People last year really enjoyed it, it was a lot of fun," Moline said. The breakfast is free to cancer survivors; register on line or at the Survivor tent. The Victory Lap (aka Survivor Lap) follows the opening ceremony, and with that the day of walking begins in earnest. The White Salmon Jazz Band returns for an 11 a.m. performance, and Providence Band takes the evening shift, 7-9 p.m., and the ice cream social – open to anyone – will be at 3 p.m. A DJ spins tunes throughout the event.
"Locks of Love" will be at noon, and the waterslide will be set up in the afternoon along with other games. Prizes are awarded for best tent and best Superhero costumes New in 2013, the Caregiver Social returns at 9 p.m., with a guest speaker, which Moline said "gives people time to talk and remember and get ready for Luminaria," at 10. In the Luminaria ceremony, the track is lined with lights commemorating a loved one or a survivor.