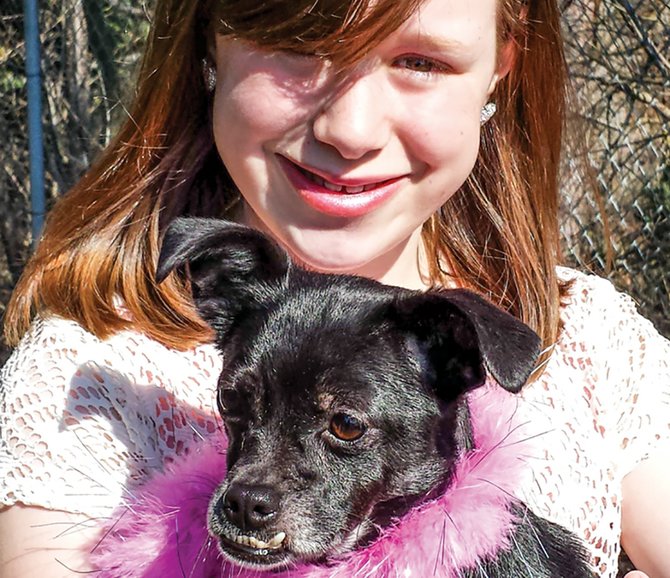 Elissa Poe is thankful that she was alone at home on July 10.
Her children, Madeline, 10 and Nicholas, 15, were safe from the fire that destroyed her Indian Creek Court Apartment. Poe, 43, suffered smoke inhalation, and burns on her arms and face are still painful but healing. Yet Poe and her children grieve the loss in the fire of their beloved two-year-old dog Eleanor, named for Eleanor Roosevelt.
"It's devastating. I tried to get back in to get her (Eleanor) but they pulled me back," said Poe, who has lived in the apartment for seven years. "She was like my child," Elissa said. "But I have a family that's very supportive and I am just thankful my children are safe. The people who helped were great, and I am just glad no one was hurt and none of the other apartments were damaged."
Quick action by neighbors and law enforcement kept the fire from spreading to other buildings in the eight-unit structure, located off Pacific Avenue on the Heights. Elissa lost all her belongings, including her computer and medications, but is hoping to enter the apartment Tuesday for the first time to see what can be salvaged. Most of the kids' belongings are gone but they did have some clothes and their personal computers at the home of their grandparents, Tom and Nancy Poe of Hood River, where they had been staying recently.
The Eleanor Fund has been set up by Tom Poe at Wells Fargo for anyone who wishes to help Elissa and her children get back on their feet. The cause of the fire has not been determined, according to Hood River Fire and EMS Chief Devon Wells. Elissa Poe said she had gone to the back of the building to the community garden when the firre broke out," she said.
"I had just played with my dog outside and since it was hot I went back to the garden and watered the plot. I didn't even hear the fire alarm go off. Black smoke started pouring out the window. That's when I started around and right when they pulled me out (the door) the front window blew out. They got the flames out quick but Eleanor was still inside. I was worried about the people, none of the other apartments were affected, thank God. My upstairs neighbor Betty is like my second grandmother. "I didn't think this could ever happen, but at least nobody else's apartment was damaged," Poe said. "I don't have renter's insurance. I'll never go without that again." Poe found a silver lining in their situation. "My daughter is the same size as me, so we can share clothes."