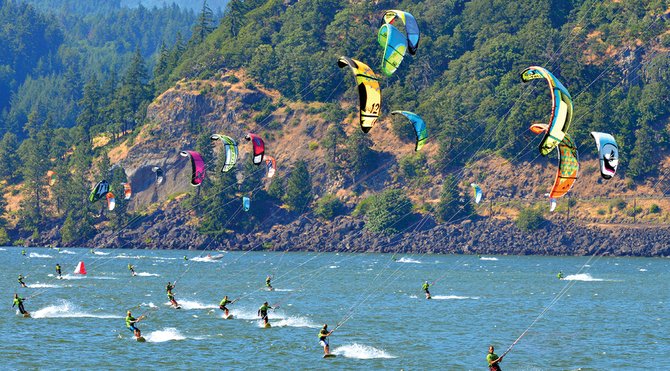 The wind gods smiled on the Hood River Event Site Saturday afternoon. Despite a less-than-favorable forecast, the wind kicked in at about noon, increased throughout the day and blew strong and steady for several hours, giving the 154 participants of the 7th annual Kiteboarding- 4-Cancer fundraiser a full afternoon of sunny skies and steady wind to make this year's sixhour endurance race one of the best and most competitive in event history.
Although official numbers are still being tallied, organizers reported that this year's event broke the fundraising goal of $100,000, which goes to support cancer survivors through an adventure sports based program called Camp KORU.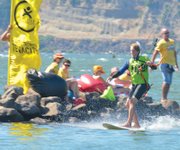 In a parallel of what cancer survivors endure on a daily basis, the KB4C race is a test of personal grit and determination. Those who log the highest number of laps kite the entire six hours without taking a break — a feat not to be underestimated, especially this year with temperatures climbing into the 90s and the wind blowing considerably harder than expected.
All told, participants competed more than 2,300 laps around the 3-mile course, totaling nearly 7,000 miles of kiting.
Individual male top three finishers were Brandon Scheid (70 laps, 210 miles), Tony Bolstad and Cory Roeseler; top three females were Carol Bolstad (48 laps, 144 miles), Rachel Callahan and Savannah Boersma and the top youth finisher was Veta Boersma (42 laps, 126 miles).
These names will be familiar to many: Scheid is a summertime Gorge kiter representing Liquid Force; Tony and Carol Bolstad are Stevenson residents who organize the annual Bridge of the Gods Kite Fest (Tony is also a Port of Skamania County Commissioner); Callahan, a summertime Stevenson resident, rides for Best Kiteboarding and the Boersmas are siblings and Hood River Valley High School students.
Team top honors went to Patagonia Randoms (65 laps, 195 miles), Team OG and Team Naish Kites.
"I was out there riding for two hours straight, constantly working upwind. It was a struggle," said participant Brianna Hirsch. "I was thinking, come on, you've been through cancer, you can do this."
Hirsch's team of cancer survivors, named Two Lymphomas and Two Ballers, was the top fundraising team this year, bringing in $8,408; team members were Hirsch, Steve Fisher, Igor Alvarez and Jim Erjavel.
"Kiteboarding brought me back to life after cancer experience," said Hirsch, who teaches lessons for Cascade Kiteboarding School. "Last year was my first KB4C and it inspired me to get more involved."
In all, athletes from Saturday's endurance race raised more than $75,000 through pledges and individual fundraising efforts.
The top individual fundraiser was cancer survivor and former U.S. National Team synchronized swimmer Mandi Browning, who broke the $10,000 threshold by the end of the day.
"Life can certainly throw you some major speed bumps," Browning said on her KB4C fundraising page. "I think what makes the difference is how we choose to traverse them. I prefer to do this with grace, integrity, and living my life as a positive example for others (especially for my daughter). I am thankful for each new day that I have the privilege to be able to live, and I never take anything or anyone for granted. I was first diagnosed 17 years ago … I fought my last battle three years ago, and I'm standing my ground today, cancer-free. Hey, I'm still here, and I've got a lot of things that I've yet to accomplish … I want to be able to help others and encourage them in their fight; to be able to show them that all things are possible, and that we are all here to support each other. This is an incredible opportunity and I am honored to be a part of this awesome event."
On top of individual and team fundraising efforts, silent and live auctions held over the weekend brought nearly $25,000. Among the auction fundraisers, the Boards of Hope art project has become particularly popular, and inspiring, over the years. Boards of Hope can be traced back to Scott Farman, the late brother of KB4C founder Tanya Farman.
"Boards of Hope began from the hospital bed of 19- year-old Scott Farman, fighting for his life with acute lymphocytic leukemia," an excerpt from Athletes for Cancer's website explains. "Scott turned to art for emotional release and when confined in the hospital. In the process, Scott created powerful works of art that today remain his legacy and inspiration for others to find healing through art and the outdoors."
Cancer survivor and Camp KORU participant Samantha Newton created one of several of Boards of Hope for this year's auction. Her board — a snowboard — depicted the snow-capped Cascade Mountain Range, under a brightly blue and sunny sky. In an email correspondence, Newton gave the following account of her motivation behind the board design, and her experience with a Camp KORU program on Mount Hood: "I'm participating in a program called Notes of Hope in November.
It is a fundraiser for OHSU in PDX that benefits their AYA (Adolescent and Young Adult Cancer) program. I mention this only because as part of this program I got a story telling coach to help me craft a good story to tell on stage at the event. She asked me to just talk to her and tell her my story. I started by telling her the details of my primary cancer and subsequent recurrences and the impacts that it had in my life.
"I told her I finished chemo two years ago and I feel like things should start returning to normal; I should be happy, because I'm alive and some of my friends aren't anymore. But the fact is, that I haven't been able to move on and I still really struggle. It's hard. "She looked at me and explained that hard is a general term; I need to give my audience an image. What's hard? "I didn't know the answer then, but when I finished my (Boards of Hope) snowboard, I realized that I had my image. Those mountains — the ones that I've learned so much from and constantly look to for healing — they are the image of what is hard in my life. They are a picture of my journey into survivorship. "The thing about mountains is, when you are going up them you are fighting gravity to go up. There is this invisible thing, beyond your control, pulling you down and you have to fight it to move forward. Eventually you do, and you get to the top and it's really comfortable up there. But you can't stay there. You have to go back down. Except that this time you aren't fighting against gravity anymore. Gravity is pulling you forward, gravity wants you to get to where you are going. Gravity wants you to just move on! "This time, it is something much more tangible holding you back — yourself. Constantly adjusting to control the speed. Taking the mountain turn by turn, slowly but surely.
"During Camp KORU I participated in downhill skiing for the first time in my life, up on Mount Hood. I would be scared out of my mind, sometimes paralyzed with fear, unable to move down that mountain. And then an 8-year-old would zip by me at a million miles an hour like it was nothing. I'd think, how is that kid doing that? Just letting gravity take him down. "In my journey through cancer I was done with the uphill part, the fighting part. And it was hard, but it makes sense and a lot of people are there for you. "Before Camp KORU I was just wobbling up there at the top of the mountain, alone and scared to move on and filled with anxiety every time I tried to. My week with Tonia (Farman) and her organization and everyone that was on that mountain with me was truly life changing. "I want to go down now. I want to let life take me. It isn't always easy, and sometimes I still struggle. But, because of the support I had conquering that mountain, I feel like I am more ready to conquer whatever is ahead of me.
"They say it isn't about conquering the mountain, it's about conquering yourself. I find that to be true and am finally beginning to move on in my real life because of Camp Koru, and those mountains I see in the distance each day."