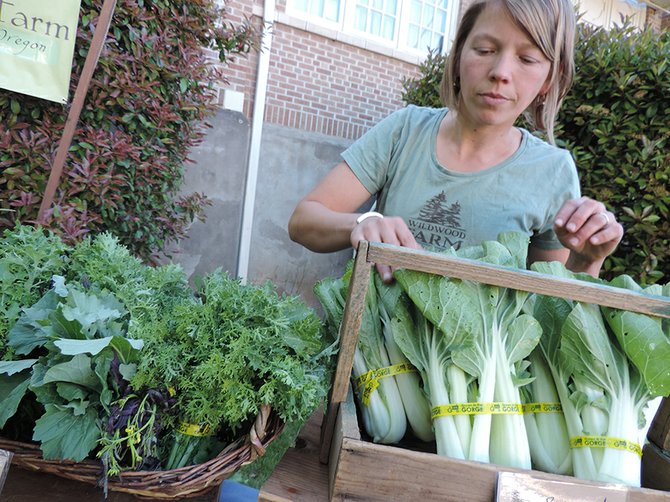 Where can you get fresh, seasonal produce grown by local farmers delivered weekly?
Here in Hood River County, of course.
"Local" and "organic" are not always synonymous, but chances are good you can find organic produce grown within miles or minutes of your home – read the label or ask the grower. (Many, while not certified organic, follow all organic growing standards.)
Four days each week, between locations in Hood River County and Mosier, local growers come to markets with their freshest wares, including Gorge Grown markets, where you can also learn about Gorge Grown classes in cooking and sustainability issues.
Here's when and where to find the markets:
Hood River Saturday Market, 9 to 1 a.m. at the parking lot at 5th and Columbia streets.
Hood River Farmers' Market, 4 to 7 p.m. Thursdays at Hood River Middle School.
La Mercado del Valle, 10 to 2 p.m. on Saturdays at Mid Valley Elementary in Odell.
Mosier Farmers' Market, Sunday evenings on Route 30.
Gorge Grown Food Network also ties together Community Supported Agriculture operations, which generally offer organic produce. Think of CSAs as "a magazine subscription to vegetables." Members buy shares at the beginning of the growing season, giving farmers a financial boost at planting time, and sharing in the risk and reward of that year's crop.
CSA offerings differ from farm to farm, but generally include a weekly box of seasonal produce. Share prices also vary, as does the method of delivery — some deliver to your doorstep, while others deliver to a centralized location.
"I think the local food movement has been gaining steam for several years, and people are realizing that buying from your local farmer not only results in better quality food for your family, but also helps support and stimulate the local economy," said Maria Eby, Hood River Organic CSA manager.