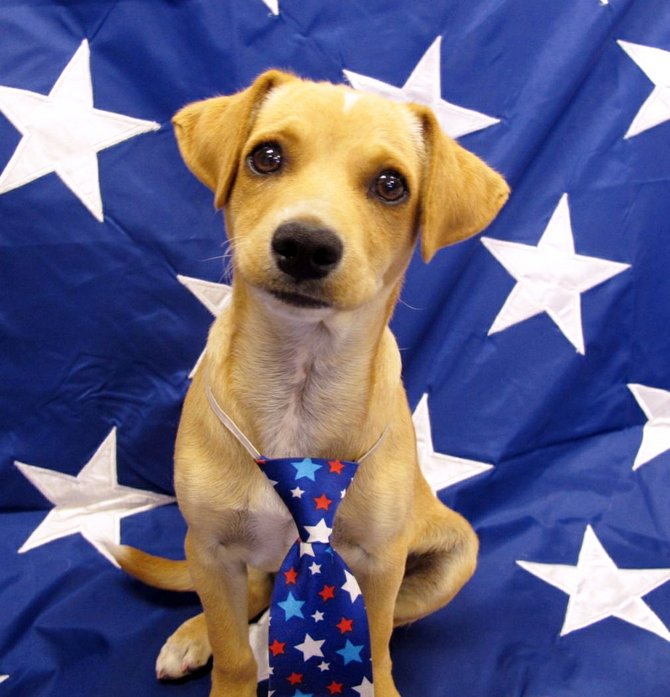 This week volunteers at Adopt A Dog have selected Howie as the program's adoptable pet of the week. They describe him as follows:
Well, howdy-doodie, Howie! This incredibly fun and playful pup is about 4 months old, and 8 pounds, likely a Chiweenie. He's what you'd expect from puppies, except so much more!
Howie wears himself out scampering after other dogs, just trying to keep up! He's working on chasing and playing with toys, but for now, he prefers to chase the dog who's chasing the toy! Then he gets to pounce on that other dog while they're distracted with the toy, but it usually just ends up with Howie getting rolled onto the ground and then he's up again and the game goes on! Howie is definitely a fun, frisky little guy who is up for anything, as long as he gets to romp and be silly! He's got those sharp puppy teeth, so little kids might not enjoy that, but otherwise, this cutie is ready for a new home!
Howie is current on shots and is microchipped, but too young for neuter. The adoption fee for Howie is $195, plus neuter deposit. The fee to adopt is charged to recoup standard veterinary expenses.
Since many of our dogs are in foster, please call ahead to meet Howie in Odell at the Hukari Animal Shelter, 3910 Heron Dr., or call for more information at 541-354-1083. Adoption hours are Wed. from 5 to 7 p.m. and Sat. from 9 to 11 a.m. You can fill out an application online at our website, www.hoodriver-adoptadog.org, or download and scan and email to us at adoptadog@gorge.net, or fax it in to 1-877-833-7166. We offer 24PetWatch microchips, which include free registration into the 24PetWatch pet recovery service. For more information visit www.24pet-watch.com or call 1-866-597-2424.