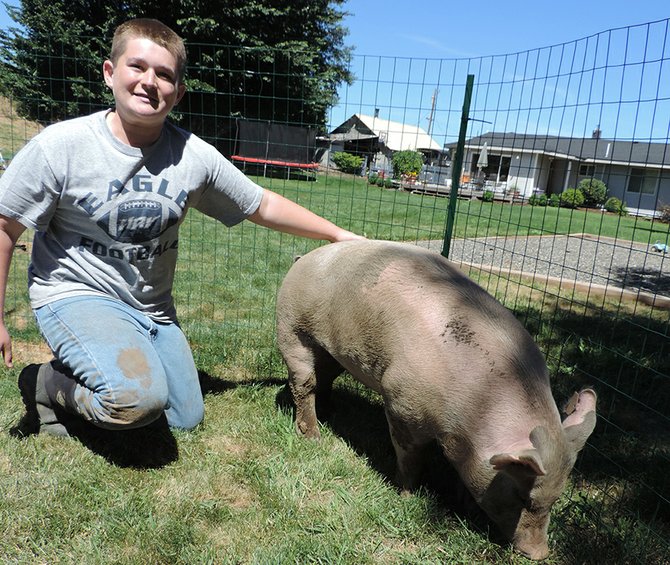 Pigs live where Stephanie Pickering's garden used to be, but that's okay with her.
It's just about Hood River County Fair time, and something else is growing there: the knowledge and confidence of her son, Wade, 14, who is caring for his market hog, Nicole, and his sister Anna's hog, Daffodil.
Nicole is named for Wade's aunt, who he says loves the honor.
Next to the Pickerings' broad lawn, the family-owned orchards and the you-can-practically-touch-the glacier view of Mt. Hood, you will find the hog pen, where Wade has been learning about porcine behavior.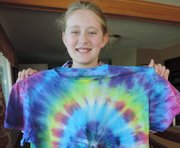 "They do not listen," he said. "They're really smart. You just have to work with them." Wade is looking forward to the July 26 4-H/FFA livestock auction, when he and his fellow Hood River County youth present their livestock for sale. That transaction is the culmination of a year of hard work.
"4-H has really helped me learn responsibility," Wade said. "There might be days when I don't want to get up and take care of (the hogs) but I know I need to. It's encouragement. It helps me know that some things are up to me to take care of. I know I need to get up and give her water and make sure she gets her Ensure – to put on weight and help with muscle mass."
The Pickerings and their kin, along with neighbors and friends, are all behind Wade's efforts with Nicole. He and Anna are both members of the Mountain Top 4-H Club, which Stephanie started three years ago.
"We were new to it, and didn't know anything about it, but I got other families to get involved and we have all helped each other," Stephanie said.
"My mom asked if I wanted to be in 4-H, and I said yes. It's been a lot of fun and we've learned a lot," Wade said. "I think it's helped me be a more responsible person, and to more organized." As with all 4-H participants, Wade will present a record book of his care and upbringing of Nicole; those books are placed on display in the 4-H building throughout the summer
"If you do 4-H you know the basics of how you care for animals and when you do go into agriculture you know what to do," Wade said. "You don't have to be told all the time. 4-H will provide the training earlier."
The family was not new to farm life: for years the Pickering family has been farming fruit around their Hutson Road; Brad Pickering currently works for Underwood Fruit, and the orchards are leased by their friends Leonard and Paul Aubert of Parkdale.
Through 4-H, the family is getting a broader understanding of the ways people in the farming community help each other out, according to Stephanie and Wade.
"It's great to see everyone working together at the fair, and everyone really is there to support each other," she said. Even kids whose animals have not made weight or are not showing in fair for other reasons will come and clean animals and take care of the pens.
"I like seeing my friends, and going on the rides," said Anna, 10. She also likes the idea of getting blue or red ribbons instead of the rainbow Cloverbuds ribbons. "It's nice if you get a place, because a rainbow ribbon everyone gets one," she said.
"It's just good to see something good come of all your hard work, and getting that reward of selling it at auction," Wade said of the fair. He earned ribbons last year in other 4-H events such as wearable art and leathercraft, and this year he will contribute a pioneer diorama to the Open Class art competition.
The Pickering family was involved this summer in JBO baseball, and Wade is looking ahead to this fall, when he'll get back to playing football as a Hood River Valley High School freshman.