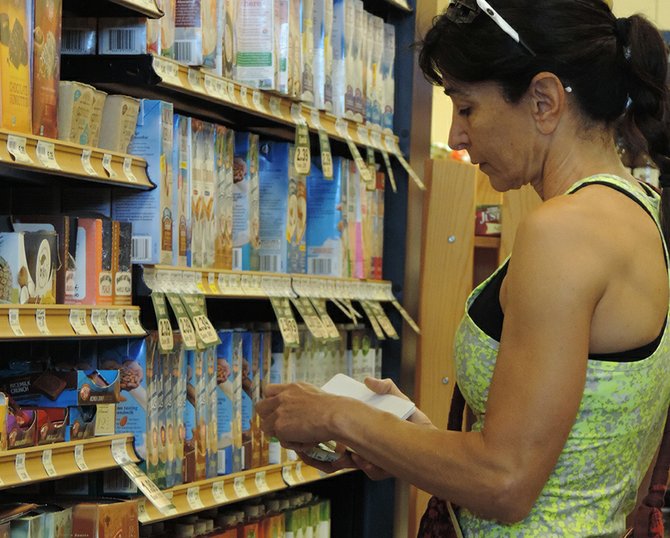 The organic food movement isn't new — Wikipedia claims it began in the early 1900s, before the First World War — but it is enjoying a surge in popularity. There are several organic markets in Hood River, two of which are Mothers Marketplace, located near downtown, and Rosauers' Huckleberry's, on the Heights.
Mothers Marketplace has been located at 106 Highway 35, Hood River, for the past 10 years — but the organic market originally got its start in Lyle, Wash., in the mid-1990s.
It's a rather long story, but essentially, what happened is this: Chris and Margaret Ohlson purchased the business in Lyle in 1997 and moved it to Bingen about six months later, in what was most recently the Solstice Pizza location, feeling it would be a better site for the shop. And there they would have stayed, had not two things happened simultaneously: Road construction on Highway 14, and work on the Hood River Bridge.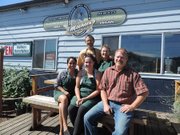 Because of this dual construction, business went way down — "We were getting snuffed out," Margaret said — so they decided to open up a second location in Hood River. The plan was to wait out construction and move back to Bingen, but the Ohlsons found operating two locations difficult.
And so they established themselves permanently in Hood River. Eventually, though, Margaret decided she wanted to stop working such long hours and planned to close the store. That's when Chris' brother Eric purchased the business, although both Chris and Margaret remain on staff.
"Margaret said she was going to close the store about four years ago, and I knew she'd thrown too much into it (for it to close)," Eric said. "It's vital to the community, I think, and I think a lot of people feel the same.
"She was working 80 hours a week for 10 straight years," Eric added. "Now she works 40-50 hours a week, it's like a vacation. She really enjoys it — it's her life's passion. I'm glad we held onto it."
Mothers has always been committed to providing healthy, natural food to its customers.
"We're a vegan store, with the exception of honey and local eggs when we can get them," said Margaret. "Over the years, people have come to appreciate us as folks who wouldn't order and carry and sell anything we wouldn't eat ourselves."
The store carries organic fruits and vegetables, and has a general grocery section that includes bulk items. It also has a health and beauty section, as well as a small supplement section.
But the heart of the store is its vegan deli.
"I think the store revolves mostly around the deli," Eric said. "The grocery does the most business, but it's in the deli and produce we do the most of our chatting."
Mothers has two dozen deli items, from sandwiches to soup — chilled and hot — every day. Three of the store's four cheese options are made onsite from organic ingredients. They also make their own bread and pizza crust.
For the Ohlsons, the store isn't just a business, but a way of life. All three are vegan to varying degrees, Eric said, with Chris being the strictest, and they enjoy sharing their knowledge.
"We're very much here to serve and share what we've learned along the way to help people have a healthier lifestyle," Margaret said. "It matters to be choosy about what you eat.
"My personal vision for Mothers is and always has been to provide a safe place for people to shop," she said. "I think we've become known for that. People trust us — 17 years is a long time."
"We're not perfect and we're always open to new ideas and new things," Eric said. "If you haven't been in in a while, come on in — the store changes, but the product line hasn't changed a lot."
Conversely, Huckleberry's Natural Market is a complete store within a store.
Located inside Hood River's Rosauers Supermarket, 1867 12th St., it was one of the first "store within a store" concepts for the northwest chain, said Sheila Marsh, Huckleberry's assistant manager.
"Rosauers made a commitment early on to honor the people interested in organic foods," she said.
Huckleberry's was originally a free-standing natural foods store located in Spokane, Wash., where Rosauers is headquartered. Don Whittaker, one of Rosauers' merchandizers, used to shop there, and "liked what he saw," said Marsh. "He put the idea forward to Rosauers that natural foods was the coming thing and they should do what they could to incorporate that market. When Huckleberry's went on sale, Rosauers purchased it."
Huckleberry's first came to the Hood River Rosauers location in 2001, and underwent a major expansion in 2010, thanks to its popularity. There isn't a typical Huckleberry's customer, she said, noting that shoppers come from all walks of life.
"Hood River is its own little demographic," Marsh said. "We've got people from the original natural food movement, we've got sports enthusiasts, and we've got people with food sensitivities." She credits manager Mary Hrebec with making space "right from the start" so people could have as many dietary choices as possible, no matter what their focus.
Huckleberry's carries a variety of bulk and general grocery items, as well as supplements, health and beauty products, cleaning and baking supplies, frozen food and dairy.
"We have a marvelous assortment of fine chocolate," Marsh added. "I'm very aware of the good chocolate and the nondairy frozen dessert crowd," she laughed. "But there's also a lot of people looking for body care products that aren't laden with chemicals, or are looking for things with simple ingredients. A lot of people are looking for something organic because they know it won't be a GMO product.
"(Huckleberry's) is the whole package — there's a huge variety in this section. In fact, I've had people tell me they shop at Whole Foods and our selection is pretty similar. That surprises me because we're nowhere near as big as Whole Foods, but I love to hear that."
Because Rosauers gives managers the ability to tailor their Huckleberry's markets to the local community, the markets are "real health food stores," Marsh said. If something comes in that a manager doesn't like — be that an ingredient in a granola bar or a stick of deodorant — they are able to discontinue that product immediately.
"(Whittaker) wants these to be real health food stores, not just a nod in that direction," she said.
Because she eats a wheat-free diet, Marsh particularly enjoys helping people who are looking for gluten-free options.
"Parents of children just diagnosed with Celiac come in with eyes as big as dinner plates, with their kids looking forlorn in the shopping cart," Marsh said. That's when she likes to step in and show them all their options.
"By the time they leave, that child is smiling and has a couple packages of cookies and a box of pasta, and knows there will be life after diagnosis."
Organic food has gained in popularity, Marsh said, because "people are starting to realize they need to make healthy choices in their lifestyle and are in search of whatever it is that helps them get there."
She also believes that people are becoming better informed about the food they eat. "They're made nervous about things they hear on the news," she said, siting stories of pesticides and herbicides, genetically modified food and the overuse of antibiotics. "There's an uneasiness in the populace."
Marsh loves answering questions, and said that customers should never hesitate to ask for help, even if she or another employee looks busy.
"That's what we're there for and we love waiting on customers," she said. "Mary and I came to this job with a sense of service. We're empowering people to make better food choices and personal care choices. We're always glad to help."