Greg Colt will run for mayor in November.
The long-time realtor has served with Rotary and in past directorships with Columbia Gorge Center for the Arts, Chamber of Commerce, and the Downtown Business Association (now council). Colt, who founded Colt Listing Service in 2009, describes himself as a life-long entrepreneur.
"I understand the struggles businesses are faced with and I have a sympathetic ear to those who create jobs in our community," said Colt, who moved to the Gorge in 1992.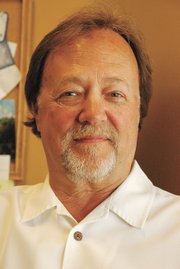 Mayor Arthur Babitz will step down in December after eight years on the job. The position of mayor and three council seats are up for reelection in November.
"I love our town and I love the people who live here," Colt said in a press release. "There are several important issues I want to help address, including the several issues that have been before our City Council for years without being resolved."
He said these are downtown parking, workforce housing and waterfront development, but he also said that the city needs to look at restoring services that were cut over the past 10 years when the city was in budget deficit.
"I want to respect the budget work that has been accomplished but, at the same time, find solutions to the basic services we deserve for our tax dollars," Colt said.
"We don't have a parking problem, we have a transportation problem," Colt said. "The answer to parking is bussing, cooperation and creative use of our existing underutilized resources."
He said he has talked to Columbia Area Transit and the Chamber about getting a fixed bus route to transport passengers from parking lots on the outskirts of town into the various shopping districts, and with the Port about creating another parking lot on unused property just across the Second Street freeway overpass.
On workforce housing, Colt said, "the problem with creating workforce housing is that there is no affordable land on which to build it and the System Development Charges the City demands for any new development puts further strain on affordability.
"The city owns land that could be donated for the specific use of workforce housing and the city has the power to waive SDC fees for such an undertaking."
Colt said developers have told him workforce housing can be encouraged "by tweaking our zoning and parking ordinances."
"Enough talk," said Colt. "I want to push to see this happen."
Colt said the community needs a large meeting building to replace the Expo Center (scheduled for demolition by 2017) and one should be put on Lot 1, the Port-owned property next to the waterfront.
"We finally have a beautiful park to enjoy and the new buildings which have been built. These are full and the companies occupying the new spaces are thriving. There is no place in Hood River to have a major event," he said, aside from WAAAM. "We need a facility to replace the old Expo Center and I would like this to happen on Lot 1. It is going to take time and successful negotiations with the Port, but already have the support of the Chamber of Commerce and several local hotel owners. We do not need any more commercial development on Lot 1."
Colt said his professional focus has been on commercial real estate brokerage and that he also provides a discount listing service to spec home builders and land developers. He served as broker of record for the City of Hood River from 2009-12.
""I have spent many hours volunteering at the schools and with various extracurricular activities," Colt said. "I was coordinator of the SMART reading program at May Street School and loved my interaction with both the children and the teachers." He served as an ASPIRE volunteer at Hood River Valley High School when his daughter, Kaylee (a 2014 graduate) enrolled, and he has been involved with Helping Hands Against Violence.
Colt also served on the Rotary Board of Directors.
Colt is the second person to announce plans to run for mayor. Paul Blackburn said he filed for the office in June.