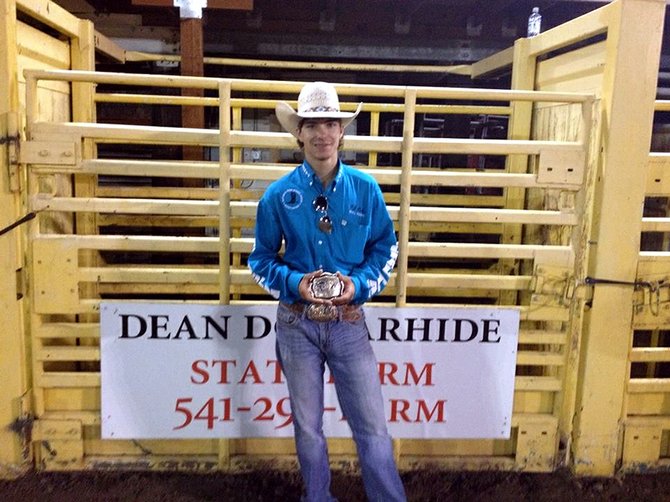 The cheers and chatter of hundreds of rousted rodeo-goers mingled with the chorus of Queen's "We Will Rock You" echoing across the brightly-lit Milt Tomilson Arena Saturday night in The Dalles. As the last bull rider on the final day of the annual Fort Dalles Days Pro Rodeo, Horizon Christian School senior R.J. Hicks entered the gates and mounted his bull knowing he had a legitimate shot at winning the title, and the prize money that comes along with it.
"I knew it was all or nothing," Hicks said Monday, one shiny new buckle and $2,300 richer. "I just went out there and rode my guts out.
Hick's bull spun left out of the gates, and after a full turn leapt in the air and bucked furiously for five more rotations. On the fifth, Hicks lost pace with the bull, got caught too far forward and met the back of the bull's neck with his chest and face with less than a second to go. The bull kicked one last time, hard enough to send Hicks flying through the air upside-down with his hand still gripping the rope.
The crowd gasped as Hicks landed square on his neck dangerously close to the bull's feet. But he popped-up like a champ, jogged away unscathed and looked to the judges to see if he had held on long enough.
"He came out slow but got faster and faster," Hicks said. "I just held on, put my free arm up as high as I could and rode it out. It was pretty tough just standing there waiting for the judges to give me a thumbs-up."
The crowd erupted when Hicks did get the thumbs-up, signifying he had just barely completed an eight-second ride. With the only other complete ride of the night scoring a 76, Hicks limped out of the arena as the judge announced his score – 81.
"It feels pretty good," he said humbly of his first pro rodeo win.
Hicks says the win comes with mixed emotions. As a twist to the story, he and his dad, Rusty, arrived at the arena Saturday night fresh off a 13-hour drive from Rock Springs, Wyo., where he had been competing the previous week in the National High School Rodeo Association finals.
In his second year to qualify for the event, Hicks had just two eight-second attempts to prove his grit among 12,500 high school students from 41 states, five Canadian provinces and Australia there to compete for national titles. He got bucked on both rides — the second of which he was less than a second from completing. "It didn't go very well," Hicks said last week after his first ride. "I got whipped down pretty good. My head met the back of his head and it all went downhill from there."
Had Hicks completed his second ride, he would have advanced to the top-20 finals the following day. But, fortuitously, since he was out he made a call to see if he could get into the Fort Dalles Rodeo.
"They still had openings for riders, so we left at about five in the morning and made it to The Dalles in time to take a shower and get to the rodeo," Hicks said. "My dad drove 13 straight hours to get me back. I definitely owe him a big thanks for that. I've always wanted to ride in this one, and to go out there and win it feels pretty special."
Hicks qualified for the national high school finals after finishing fourth in the 2013-14 Washington State High School Rodeo Association season, which encompasses more than a dozen rodeos between the fall and spring seasons. Along with working full time this summer, he'll travel to and compete in several more rodeos before the start of school and the fall half of the 2014-15 high school season.