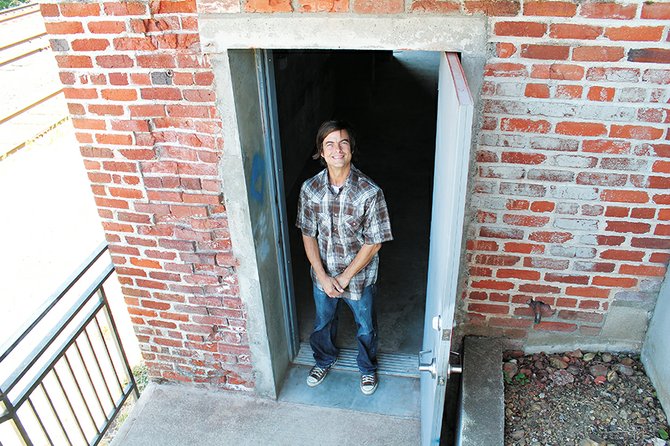 Tim Snyder has been hitting the streets and handing out business cards to let people know about his dream project of establishing the Underground Music Station — a music lesson, rehearsal and recording space conveniently located in downtown Hood River.
"We just had a float in the July 4 parade that featured myself and a few music instructors that are planning to work with me. We handed out hundreds of business cards and we're ready to get this thing off the ground," Snyder said.
Snyder wants to transform 2,000 square-foot in the basement of the Union Building into a ten-room practice, rehearsal and lesson facility. He envisions rooms for one-on-one lessons, band rehearsals and recording facilities for solo and group projects.
"We're also going to have a private Karaoke space, where a bunch of friends can have fun without the rest of the world watching. I think that's going to be really popular and I would love to bring that to Hood River," Snyder said.
Snyder has been playing the drums since he was a teenager, and over the last few years he has been giving lessons to students, mostly out of his own home. Time and time again, he has had students tell him that he should be teaching drums full time.
"I've been doing heating and air conditioning work for the past 5 years and I've built a couple of homes in the upper valley. I've also been doing drum lessons in the evenings, and I really want to turn that into my job."
Snyder was an instructor at the Eclipse Music Center in Hood River a few years ago, and was sad to see the venue close.
"The owners actually had a Vancouver, Wash, location, too, so they weren't able to focus 100 percent on Hood River. That was unfortunate because music lessons for kids was really a great service to our community," Snyder said.
Snyder hopes to fund a large part of the Underground Music Station with a Kickstarter campaign in order to renovate the building, a space that has not been occupied since it was a fruit packing house in the 1950s.
"Our goal is $40,000, which is going to be 70 percent of our total budget. We wanted to make sure we didn't try to ask for too much, because Kickstarter is an "all or nothing venture," and we wanted to be realistic. I've looked at what other local businesses have achieved with similar campaigns and I feel comfortable doing this," Snyder said.
Snyder said that fees for music lessons and room rehearsal packages will be in-line with similar facilities that he has studied.
"We've done some research on lesson pricing and rates across the country, and we feel we're in the range of what's out there. We'll have an option for 3 hours or 1.5 hours per month, with a very competitive rate for one-on- one private lessons," Snyder said.
Snyder believes that there is enough interest in the community to support this unique music venture. He already has two music instructors on board and hopes to add more part-time positions once things get going.
"I've teamed up with Ian Meyer, who has completed a degree in music education, and local bass player Ryan McAlexander. Both have a steady clientele of students, and the Underground Music Station will be able to handle a variety of instruments including mandolin, saxophone and piano. I'm excited to make drum lessons available to more students, too," Snyder said.
Snyder said he wanted to make his Kickstarter campaign, currently funded at six percent, appeal to a wide range of donation levels.
"We have 15 different tokens, and they run from a "thank you" on our wall, to doing scholarships for musicians that can't afford their own lessons. At a philanthropist level, we could even name one of our rehearsal rooms after you," Snyder said.
The Underground Music Station's Kickstarter campaign ends on Aug. 11, and Snyder hopes the community interest in creating a unique music space becomes a reality.
"I've been planning this for almost a year now, and I was hoping to be able to start in September. But I had to clear a few things with the city, with permitting and road usage and things, so realistically I'm looking at a Nov. 1 for starting up.
Snyder is no stranger to the Hood River music scene and is working on several music projects.
"I've played with a couple of local band in the Gorge. I played drums for a classic rock cover band called Ten-Thirty for a little while, and right now I'm participating in two bands. One is more of a recording project that focuses on an early 60s psychedelic sound and I've got another group of guys that call ourselves "Feed the Dog."
Snyder hopes that the Underground Music Station will provide the community with a musical environment that's a bit more conducive to learning than the attics and crawlspaces he's been subjected to over the years.
"The feedback that I've gotten on the Underground Music Station is that parents want kids to play music, and parents even want to play music themselves. I think this is a really unique thing for Hood River," Snyder said.