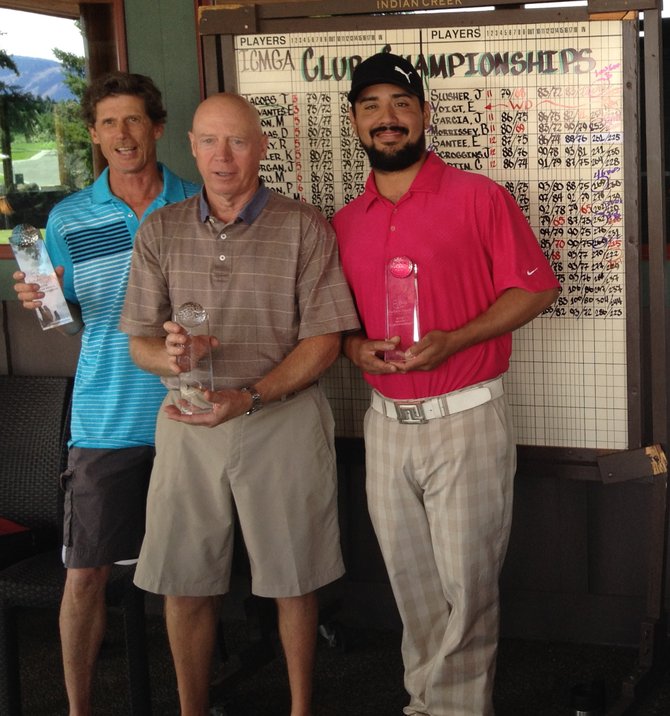 Indian Creek Men's Golf Association held its annual Club Championship tournament over the weekend with a competitive field of 42 golfers vying for 19th-hole bragging rights for the rest of the year.
High winds, difficult pin placements, and fast greens made scoring difficult; of the more than 120 rounds played, only 18 scores were below 80.

Congratulations are in order for the new champ, Yoyo Cervantes. Similar to his victory in 2011, Cervantes took charge on the final day with a 71, topping his nearest challenger Jake Morgan by seven strokes for a three-day total of 227.
To put his final round in perspective, it was the only sub-par round achieved by anyone in the tournament, and it topped the next-best scores in any round by four strokes.
Accolades also go to repeat senior club champ, Mark Mason, who prevailed over Roger Barry in a one-hole playoff, and to repeat super-senior champion Russ Kitt.
Other top finishers in each flight are as follows:
A flight low gross: 1st, Jake Morgan; 2nd/3rd (tie), Mark Mason and Roger Barry; 4th, Tyson Jacobs
A flight low net: Mark Daly
B flight low gross: 1st, Jim Slusher; 2nd/3rd (tie), Steve Tessmer and Paul Armerding; 4th, Bill Morrissey
B flight low net: John Garcia
C flight low gross: 1st, Guido Wallace; 2nd, Gene Aslin; 3rd, Dino Terrana; 4th, Jay Webber
C flight low net: Dan Nielsen