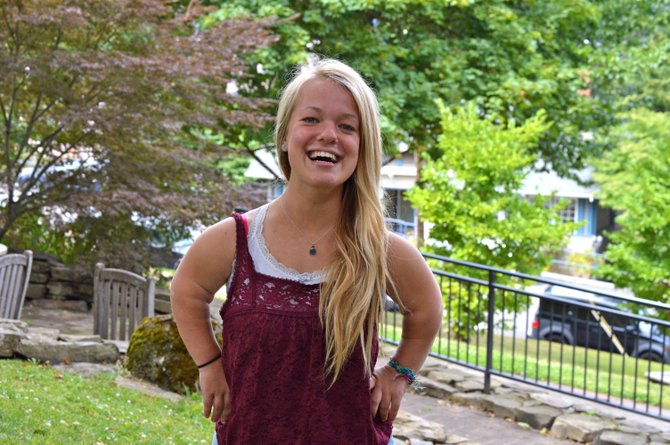 "Sam! Sam! You're seaweed!"
It's a rainy Wednesday morning, and the day's Summer Day Camp outdoor activities have been moved inside to May Street Elementary School. Sam Graham, who turns 19 on Aug. 10, is in the thick of a game of Octopus Run, and the campers are thrilled that she's now among the seaweeds.
Graham good-naturedly takes her place on the gym floor and attempts to snag a new group of octopuses as children and counselors run once again down the gym floor.
This is Graham's first year as a Community Education Summer Day Camp counselor, but not her first year as a counselor. Last year, she worked at Camp Tadmor, an overnight camp in Lebanon, Ore.
The camp was fun, she said, but challenging because there wasn't time off at the end of the day. "Sometimes you don't want to get up at 2 a.m. if a kid gets up with a wet sleeping bag," she said. "But you've gotta make it better."
Being a counselor at the overnight camp taught her "life lessons for the future — in the real world, if something happens, you have to do it."
Summer Day Camp's schedule (the camp runs weekdays from 9 a.m. to 3:30 p.m., with one overnight camping trip per session) was an incentive when she applied for the job. Another was that she knew from experience just how enjoyable day camp can be.
Graham went through the Summer Day Camp program as a six or seven year-old, with best friend and cousin Tyler Belcher — and even then, she knew she would someday be a camp counselor.
"I thought it was really fun," she remembered, noting that she enjoyed watching her friends' siblings, who were counselors that year — like Danny Rawson, she said.
"He was so enthusiastic and fun," she said. "I was like, 'I want to do that!'"
Of her own camp experience, she remembers going to Bullwinkle's Family Fun Center in Wilsonville ("It was way more fun as a camper than a counselor," she said) and going on the overnight campout that included then Community Education director Mike Schend.
"We went on a snipe hunt," she remembered, "and Mike went with us." While searching for the elusive snipe, Schend went to look in a cave and came out running.
"'There's a bear in there!' he yelled, and ran back to the lodge," Graham said. "I think it was a way to get us back inside."
The snipe hunt is a tradition during the overnight campout, and, like herself as a child, the kids love it. Last session, Graham had a group of five-and six-year-old boys who constructed elaborate snipe traps in the hopes of catching one of the mythical creatures.
"They liked the dirt, and they liked snipe hunting," she said. Unfortunately, the snipe they caught ripped through the bag — a disappointment, but maybe not surprising.
This session, Graham has a diverse group of girls ranging in age from nine to 11. She loves seeing her girls take care of each other, she said, and feels a particular sense of pride in watching them support each other.
"It's not a special camp, but you have special kids coming in," she said. "They're dealing with issues you don't really think about, like being bullied or something at home."
When she notices the girls stepping up to help, it makes her happy. "Those are my girls!" she beamed.
"Sam is just amazing," said Community Education director John Rust. "She just really connects with the kids."
Graham interviewed by phone — a hard thing to do well, acknowledged Rust — and "she was exceptional," he said, adding he wanted to hire her immediately. "She said she was a little different and able to connect with kids — and she was spot on. She's sure of herself in all the right ways."
Rust felt that Graham's experience as a former day camper also gave her an edge. "If you've been a camper, you know what the camp experience is about; you understand it," he said. "It makes a big difference. (Graham) has a lot of camp experience in general."
Graham graduated from Hood River Valley High School in 2013, a transfer from Horizon Christian School her junior year. She will be a sophomore at Oregon State University this fall, and is majoring in prelaw and psychology, with a minor in biology.
She's undecided about her future — that's why she's a double major, she said.
"I've wanted to be a lawyer since the sixth grade," she said. But at Camp Tadmor, "I had some girls with issues (molested, divorced parents, bullied) and, being a dwarf, I was able to let them get it all out; I was able to be transparent with them. My boss said I was good at getting the emotions out of the girls."
So she added a psychology major to her course load, and biology as a minor when other psychology majors suggested it would add insight to the classes. Plus, she said, she's always been interested in plants, animals and life.
"I just like learning," she said. "It's great."
Graham was born in Pendleton, moving to Hood River at the age of four with her family — father Pat, mother Amy and sister Maddy, who will be a senior at Hood River Valley High this fall.
"I love Hood River," she said. "It's a big family, and everyone looks out for each other. I like that."
She's not sure if she'll end up back in Hood River after college, though. "You never know. There's the job market, and I need to explore what's out there a little more."
For now, Graham is enjoying her summer as a camp counselor.
"I love working for Community Ed. John Rust and Amanda Dommer (Day Camp director) are great bosses. Amanda wants to see you succeed — the kids and the counselors."
Summer Day Camp runs four sessions total: Three two-week elementary camps, and one one-week preschool camp. Each has a theme — this session is "Outdoor Fun and Fitness." This year, Summer Day Camp is also offering extended care (8 a.m. to 5 p.m.) in addition to its regular hours, which has proved popular with parents.
"It works well," Rust said. "Kids do fun stuff in the extended hours, and it meets the needs of the community."
Graham wishes even more kids would sign up for Summer Day Camp.
"It's a great deal," she said. "It's two weeks of child care. They're not sitting in front of the TV, they're going to Portland, going on hikes, going to the pool, making friendship bracelets — it's a lot of fun."