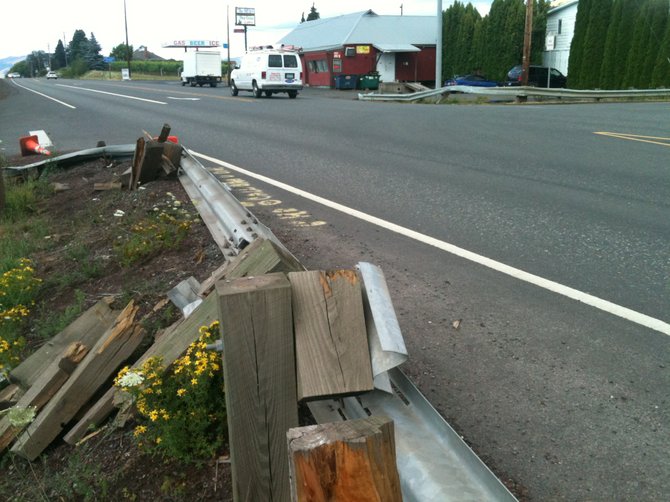 Steep hills, narrow streets, and prolific foliage help give Hood River its beauty and character.
However, such features bring problems, too.
"Danger Zones" puts a focus on potentially dangerous locations where motorists, bicyclists, and pedestrians converge. Safety solutions will vary, but the main purpose of "Danger Zones" is awareness.
This week: Highway 35, at Van Horn Drive, Pine Grove.
Main danger: Damaged corner guard rails.
Contributing factors
A high traffic stretch of highway, popular with motorists and cyclists. Van Horn and Highway 35 are home to several businesses, including two adjacent service station/convenience stores.
The posted speed is 45 miles per hour, but most drivers stay at the 55 (or higher) that is posted just to the north and south of the zone.
The guard rails are damaged – one of them, on the southwest corner (see photo) quite severely. The northeast guardrail is extensively bent, but not yet broken (in background of photo).
The southwest rail, however, is a mangled mass of metal and wood, some of it jagged and poking toward the shoulder, about calf-level for a cyclist or pedestrian if they had to suddenly move to the right to avoid a car.
Add to that the absence of intended guardrail functions: to keep vehicles on the roadway and to give visual guidance to drivers.
It also just plain looks bad.
An employee of one of the service stations said the southwest railing had been bent in an earlier accident. Coming to work one day in May, he noticed the increased damage. He said that the fresh tire marks suggested that the vehicle had crushed the railing and was driven away.
"Danger Zones" has thus far addressed locations where crossings, signs and local conditions factor into the hazards. In this case, human actions entirely constitute the problem.
Severe damage to Oregon Department of Transportation guardrails has gone unfixed for nearly three months. ODOT officials were notified of this problem three weeks ago, but as of Thursday afternoon, the guardrails remain in their hazardous state.
First fix
Position the orange cones that are scattered at the scene, then dispatch a crew immediately to repair the guardrails.
Right now, what was designed to protect is itself a hazard.
Do you have a Danger Zone you want profiled? Email us at hrnews@hoodrivernews.com, with a brief explanation.