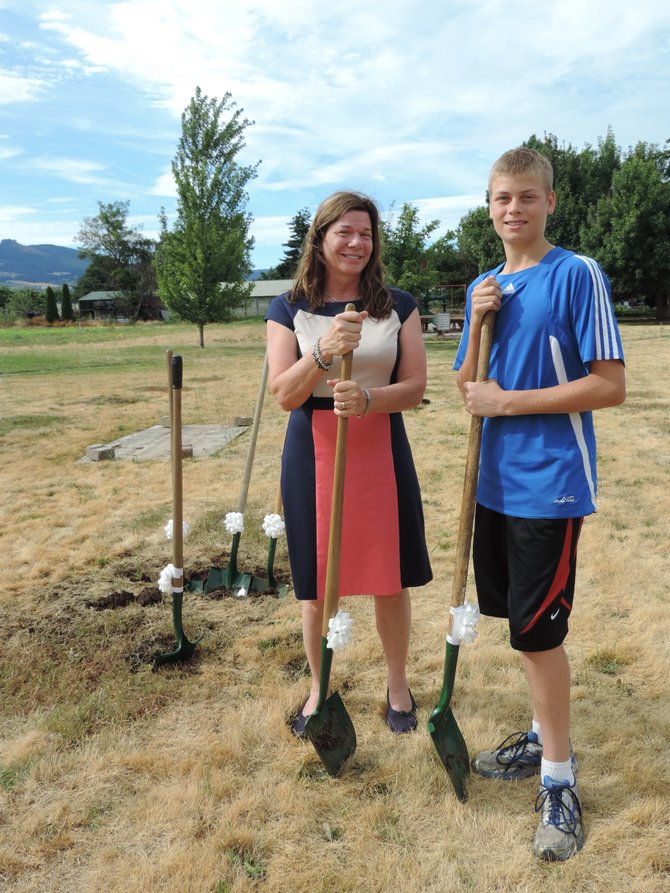 FISH food bank's oldest and youngest servants joined in Monday's groundbreaking for the Hood River food bank and warehouse center.
"For many of us, we may have felt this day might never come. If we had known over four years ago the challenges that lay ahead of us, I am sure we would have questioned our sanity," building committee chair Chuck Bugge told the gathering of 40 people on the grounds of Our Redeemer Lutheran Church, on Tucker Road a mile south of Hood River. The shovels pierced the dry ground that used to be a pumpkin patch where Erik Siekinnen, 14, grew gourds last summer and sold them for the FISH project.
"This building will not only secure those with food insecurity, but also it serves as a clear message about our community's willingness to support and help one another. It is truly a community project," Bugge said.
Kathleen Nichols, a charter FISH volunteer, gripped one of the seven beribboned shovels, along with FISH board chair Marianne Durkan, volunteers Allen Yenne and Craig Terry, board members Chuck and Becky Bugge and Debby Chenowith, and David King, pastor of Our Redeemer Lutheran, which has donated the land.
"One, two, three, dig it!" Chuck Bugge called out. After a short struggle with the dry ground, a few chunks of sod were turned over and someone joked, "Is that official enough?"
For FISH, the project is definitely official.
The FISH building committee this spring completed a two-year capital campaign that raised about $1 million to build a food bank, warehouse and nutrition education center that will support the services of all four Hood River County food bank locations: Hood River, Odell, Parkdale and Cascade Locks. Simurdak Construction starts work in about a week, with substantial completion expected this fall and move-in by the end of 2014, according to Bugge. He said the project includes $190,000 in in-kind donations of labor and materials.
"I think it's splendid," said Nichols, who was involved from Hood River County FISH's start in 1969. "I mean, when we first started, the original instigators were Pastor Zimmerman of this church and the late Audrey Tonn, who was a Methodist. We put it together and we made it work. I think that is really what the community has put together, not just the church but the whole community. I look at the Bugges and what they have done. It is just a good community thing."
"On this long anticipated day, we look forward to the work that will be done here and we contemplate this space as an outreach to our most beloved children, the poor," King said in his benediction.
Chuck Bugge said, "With only the part time assistance of a grant writer and consultant (Paul Lindberg, who was present Monday), our total volunteer organization garnered financial support from over 600 individuals, and local and regional businesses, and raised $1 million in construction and more than $190,000 in in-kind contributions.
"Three people who devoted countless hours to get us to this point are Dave Radley, Craig Terry and Alan Yenne," Bugge said. "They got the quotes, worked with the contractors and lived at the county permit office. We would not be here today without their dedication."
Seikkinen called his project "solar pumpkins;" the patch still forms a pattern in the dry grass of the Our Redeemer grounds. He had never before grown pumpkins, but said he had help from his mother, Gigi, a landscape architect.
"I realized a lot of money was going to go into the freezers and refrigerators, and we could save a lot of money if you had a more renewable resource on top of the building," said Seikinnen, who will be a ninth grader at Hood River Valley High School this fall. He sold about 200 pumpkins, generating $10,000.
"The sale of the pumpkins was not much, it was more the community pitching in. You get a lot of people who say it seems like a good cause and they donate a hundred, and you have that a few times and it adds up," Seikinnen said. Another $11,000 in grant money will come in at the time of installation, but a total of about $30,000 is needed to complete the solar project, according to Chenoweth.
"I think it's exciting to be part of something like this that came out in the end and worked out because I know projects like this don't always work out," Seikkinen said. "It's a lot of time and planning and hard work and raising money and people can get burned out. So it's exciting to be part of the final product that actually came out of it."
Asked what it will mean to the church's day-to-day operations, King laughed and said, "That's what we'll find out in the next couple of weeks."
King, who became pastor at Our Redeemer on July 1, said, "We're very excited about it. It is precisely the kind of thing we want to happen on our campus. Outreach to the poor is at heart of what we feel it means to be Christians, and it's great to have this project here." King, in his ninth year in the clergy, and his wife, Melissa Mimier King, a teacher, previously lived in Denver, but King grew up in Salem. They have a son, Karthik, 8, born in Bangalore, India, who came home at 18 months. He will be a third grader at May Street Elementary this fall.