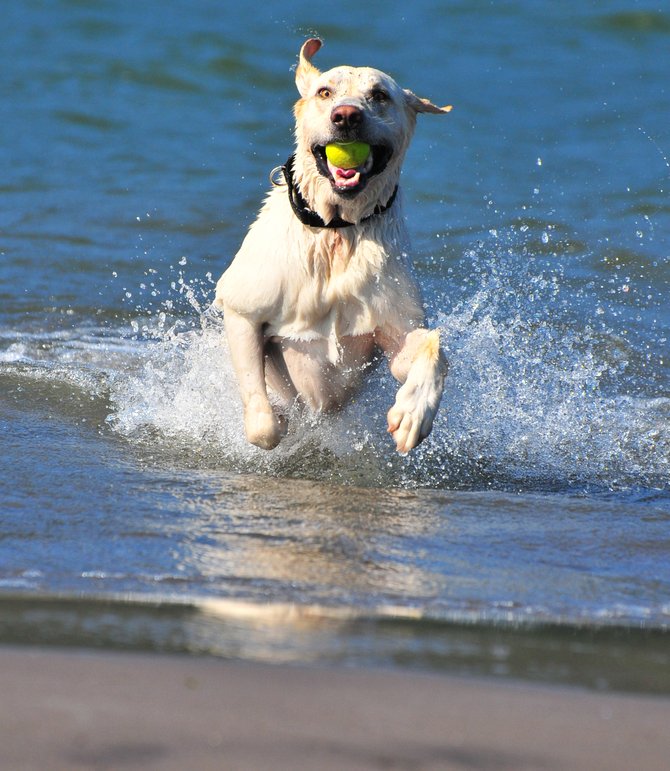 Hood Riverites love their dogs — so much so, in fact, that if things go as planned, Fido, Spot, and Rover may get their very own public park.
Hood River Valley Parks and Recreation District will be holding a public meeting July 29 to discuss the community's needs and possible locations for a dog park proposed for siting somewhere within the city of Hood River.
According to HRVPRD Director Lori Stirn, dog parks provide a fenced-in area where owners can bring their dogs to romp and run around off-leash without fear of the animals running away and violating local ordinances that prohibit "dogs at large." Stirn said dog parks have other benefits as well, allowing dogs — and humans — a place to socialize, reducing problem behaviors in pets, and providing seniors and people with disabilities an accessible place to exercise their pets.
Hood River Mayor Arthur Babitz said currently, the city does not have an official dog park to his knowledge, although he noted Friendship Park, located at the corner of 18th Street and Taylor Avenue, has been called "a de facto dog park." Babitz added the city has previously entertained proposals to develop a dog park in between the Hook basin and the wastewater treatment plant on Port of Hood River property, but the proposal did not move forward.
That property is one of two HRVPRD is currently interested in as possible sites. The other would be the vacant lot adjacent to Pacific Power's Union Street substation.
Stirn says there are benefits and drawbacks to both. The site near the Hook has access to the river, but parking would be an issue, according to Stirn. The location near the substation is closer to residential areas, as opposed to the port, but would not have river access. Moreover, the city's ongoing sewer lift station project, located directly next door to the substation, would require setbacks for the dog park and reduce its size, although Stirn believed there is "still a considerable amount of open space" available for the dog park.
Stirn said the money for the project would come via funds from System Development Charges, the HRVPRD general fund, donations, and possibly grants in the future. She mentioned that Hood River Rotary has expressed interest in helping move the dog park forward.
Brian Becker, one of the lead proponents of the project, believes a dog park is long overdue for Hood River and hopes HRVPRD can develop something that will be on the level with successful dog parks in other Oregon cities.
"I've been very encouraged by what I've heard anecdotally from other dog owners in town about the desire to have an off-leash park," he said in an email. "Dogs need opportunities to exercise and socialize, as do people. And we have a lot of dogs in town. Not having an off-leash park for dogs and their owners to recreate seems like a missed opportunity for Hood River. I am hopeful that Hood River can follow the example of other 'destination towns' like Bend and Ashland, which have done a great job with their off-leash parks."
HRVPRD is looking for other suggestions besides the substation and the Hook sites for a dog park and invites the public to attend a meeting, Tuesday, July 29 at 6 p.m. at the Ty Taylor Fire Station Community Room at 1785 Meyer Parkway in Hood River to "form a committee to help identify possible properties and elements" associated with developing the dog park. For more information, contact Lori Stirn at 386-5720, parksandrec@gorge.net or Brian Becker at hoodriverdogpark@gmail.com or comment on the dog park's Facebook page at www.facebook.com/hoodriverdogpark.