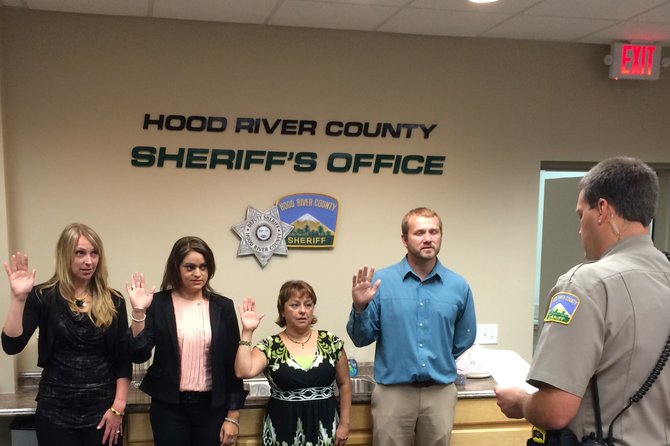 On the morning of July 1, Parole and Probation personnel raised their right hands as Sheriff Matt English deputized staff. The Sheriff's Office officially assumed the reins at the beginning of the fiscal year. Four Parole and Probation Deputies, a work crew supervisor and a corrections technician are tasked with supervising individuals in the community who are placed on probation by the court or released from prison. Currently, the division supervises around 300 offenders.

Parole and Probation has undergone many changes in recent years since counties took over in the mid-1990s following Oregon Senate Bill 1145. In Hood River County, Parole and Probation had been an autonomous county department twice and combined with the Juvenile Department, in what is known as the Community Justice model.
The prevailing model in Oregon is for Parole and Probation Offices to operate under the direction of the Sheriff. Nearly half of the state is utilizing the sheriff model.

Sheriff Matt English, who started his law enforcement career in Parole and Probation, said he was excited about the future of the division. "I'm confident this is the right move for our community," English said in a press release. "This move makes sense for criminal justice in Hood River County. It will provide more continuity of services and will ensure the philosophy remains consistent with the other public safety components in the county."
One of English's first moves was to hire a commander to run the division's operations. Commander Jamie Hepner started in mid-June, just prior to the official transition. Hepner comes from Skamania County, where she ran the county's Parole and Probation services for several years. Prior to that, Hepner worked as a Parole and Probation Officer for Washington State Department of Corrections. She has also worked as a dispatcher and corrections deputy for Skamania County.

English commends outgoing Community Justice Director Deirdre Kasberger for her work with Parole and Probation. "Deirdre has done a fantastic job rebuilding Parole and Probation.
"She's had to endure some tough times, but she was able to transform the department by filling vacancies with smart, energetic personnel and helping to ensure offender accountability, and rehabilitation remained the focus. Her work in the past few years makes this transition much smoother."

Parole and Probation deputies will now enjoy the resources of the Sheriff's Office, including enhanced training opportunities and access to additional equipment and support services, according to English.