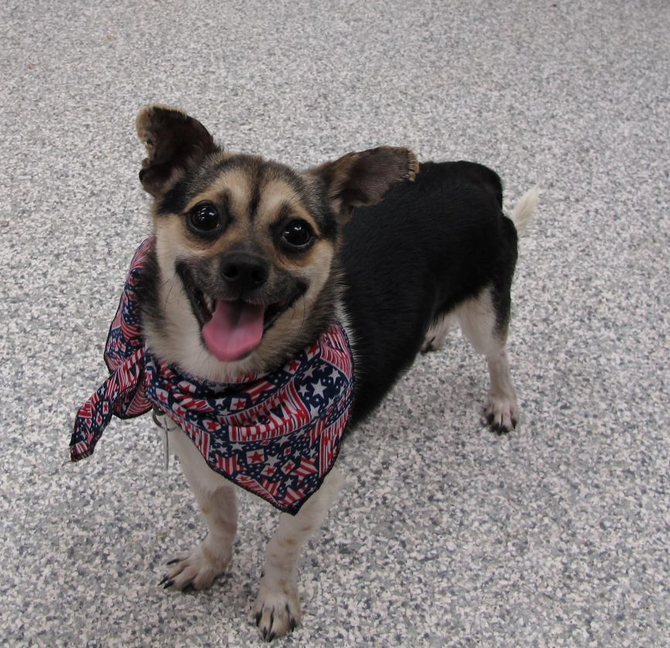 This week volunteers at Adopt A Dog have selected Ruff as the program's adoptable pet of the week. They describe him as follows:
"Talk about coming a long way! Ruff was found up at Lost Lake, skinny and scared of everything, but he's sure doing better now! Packing on the weight, and prancing with the others, he's not scared anymore! Ruff is such a lovey-dovey boy. You should see him cozy up to volunteers, kids and other dogs! At first, leashes were just one more thing for him to be terrified of, but now he gets that a leash means FUN!

"He loves to explore and sniff about and he checks that off his list of scary things! He desperately wants to get out of the shelter and find his place in his new home! Ruff makes perfect lap dog, too! Ruff is 1 or 2 years old, Chihuahua mix and ready for a family of his own. He's current on shots, microchipped and neutered.
"The adoption fee for Ruff is $185. The fee to adopt is charged to recoup standard veterinary expenses. Since many of our dogs are in foster, please call ahead to meet Ruff in Odell at the Hukari Animal Shelter 3910 Heron Dr., Hood River, or call for more information at 541-354-1083.
Adoption hours are Wed., 5-7 p.m. and Sat., 9-11 a.m. You can fill out an application online at our website: www.hoodriveradoptadog.org, or download and scan and email to us at adoptadog@gorge.net, or fax it in to 1-877-833-7166.
We offer 24PetWatch microchips, which include free registration into the 24PetWatch pet recovery service.
For more information visit www.24petwatch.com or call 1-866-597-2424."