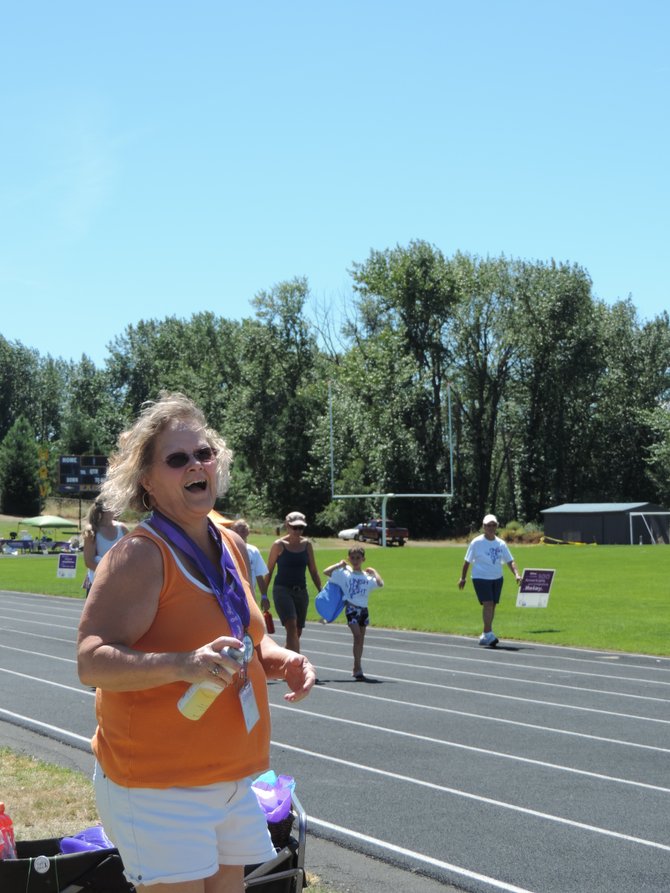 Many things bring people to Relay for Life.
For Paula Kempton of BZ Corners, her daughter Gretchen's cancer got her involved 14 years ago, and the following year Kempton was diagnosed with breast cancer. "I've been doing it ever since, walking for 14 years," said Kempton.
Kempton's team, Radical Relayers, and 23 other teams walked around the clock July 19-20, many in superhero costumes, to raise funds for cancer research and patient support by the American Cancer Society, in the annual event at Hood River Valley High School.
For Pam and Gary Dallas, their son, Devon, got involved on a team as a teenager 10 years ago, and Pam and Gary came by to check up on him during his first Relay overnight.
"We saw a bunch of friends with a team, and thought, 'this is cool, can we join?' and have been doing it ever since," said Gary; they are part of the venerable team Granny's Gang and Kevin Too.
In his first Relay, albeit in a stroller, was the Dallas' first grandchild, Bryson, 1, son of Devon Dallas and Heather Widmer.
Whole families got involved: walking with the Rosauers team were Carmen Chavarria and her son, Junior Chavarria, 17, and nieces and nephew Leslie Parada, 17, and Sophie Carabontes, 5, and Angel Carabontes, 7. Sophie and Angel rode in a wagon, Sophie in her bright purple superhero tutu outfit, but for one lap at least, Sophie pushed Junior in the wagon.
Participating were 260 individuals including 48 survivors, all up from last year, according to coordinator Veronica Moline.
The amount of money raised so far, $60,000, is up slightly from 2013, and officially the committee has one month more to collect.
Top fundraising teams were Rosauers, Granny's Gang and Kevin Too, Hood River Valley Christian Church, Radical Relayers, and One Step at a Time.
Grand Club members — individuals who raised $1,000 or more — were MJ Newcombe, Tony White, Terry Joyer, Gary Dallas, Suzi Nigl, Joyce Wilson and Veronica Moline.
"I think things went really well," Moline said. "We would like to have more teams out camping on site, our biggest goal is getting back to that." About 16 teams had a 24-hour presence. "A lot of teams came out and supported, but just weren't able to spend the night," Moline said.
For the second year, no tents were allowed on the track infield, to prevent wear and tear on the athletic surface.
"But it leaves it open for activities," Moline said. Youngsters enjoyed volleyball, Frisbee and more on the infield.
"The waterslide was awesome," she said.
Sydney Emma Balzer won the costume contest and the Team Spirit award went to the Duckwall and Providence teams.
"We really appreciate the (community) support, and it will be bigger and better next year," Moline said. The committee plans more outreach throughout the year to prepare for 2015, and to follow the lead of teams including Rosauers, One Step at a Time and Granny's Gang, who do special events and promotions at different times of the year.