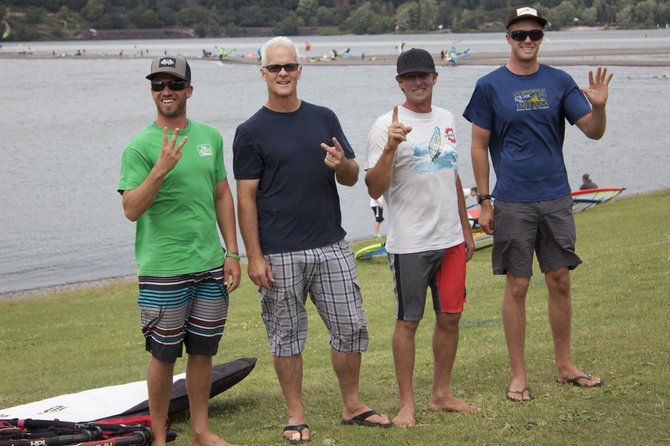 The Columbia River in front of the Hood River Event Site was swarming with activity last weekend, as sunny weather and solid wind brought out the masses to play on the water and enjoy the classic summer conditions the Gorge is famous for.
Highlighting the activity over the weekend, the Gorge Cup hosted the 2014 US Windsurfing National Slalom Tour, which made Hood River one of four locations around the country for the points-accumulating series. In all, 40 racers – a mix of resident Gorge Cup regulars and visitors following the national tour — participated in the two-day event, featuring 15 slalom races in a course set up between the Event Site and the mouth of the White Salmon River.
The experience and knowledge of resident sailors prevailed, as combined results saw MacRae Wylde, Bruce Peterson, Casey Hauser and Bryan Metcalf-Perez – all Gorge sailors – claim the top four positions, respectively.
"Saturday started out with winds gusting into the 30s, which made for some very exciting heats," race organizer Scotia Bauer commented. "A mid-day lull had sailors rigging larger gear and toughing it out in two light wind races. After Saturday's seven heats, Tyson Poor landed atop the leader board with a narrow margin over Bruce Peterson, Casey Hauser, MacRae Wylde and Sean Kelly. Everyone left the beach tired, but looking forward to another full day of racing on Sunday."
Similar wind conditions persisted for Sunday, but the field of racers was less its first-day leader, Poor, who had other commitments.
"That opened the door for racers vying for the top position," Bauer said. "Early in the day, it was clear that MacRae Wylde meant business."
With Peterson close behind, Wylde won the first two heats, then finished second to Peterson in the next two, won the next three and finished second in the final heat to claim first by a comfortable margin.
"Sunday was an out of body experience for me," Wylde later commented. "Every choice I made seemed to work. Every time I moved to a puff of wind, it was there … I can't say what I did differently than any other day, but I was focused and really enjoyed racing. Windsurfing is my passion and Sunday everything just clicked together."
Behind the top four, Kelly Sean, Stefan Lindgton, Travis Perez, Jac le Roux, Igor Landais and Andreas Macke rounded out the top ten overall finishers, in that order.
The weekend's race was the fourth in the summer-long Gorge Cup series, which has two more races scheduled this summer – one on Aug. 2 and the season finale on Aug. 9.
After four races, the top ten overall standings are as follows:
1st, Bruce Peterson (2.1 pts.); 2nd, MacRae Wylde (4.7 pts.); 3rd, Sam Bauer (16 pts.); 4th, Igor Landais (18 pts.); 5th, Travis Perez (20 pts.); 6th, Jac le Roux (21 pts.); 7th, Casey Hauser 24 pts.); 8th (tie) Corrie Gowland and Stefan Lindgon (27 pts.); 10th, Fiona Wylde (28 pts.)