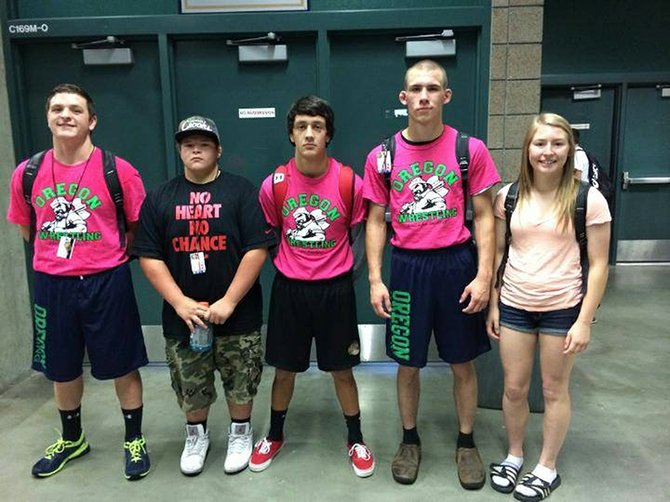 Hood River Valley High School wrestlers Andrew DeHart, Christian Marquez, Max Lane, Steven Swafford and Jessica DeHart made the long journey east to Fargo, N.D., this month to represent Hood River and the Oregon National Team at the 2014 USA Wrestling Freestyle and Greco Roman national wrestling tournaments.
In the 105 pound women's freestyle division, DeHart wrestled through seven tough matches, winning five and losing two, to finish fourth overall and earn All-American status. This was DeHart's third straight year placing at the National tournament – in 2013 she was second and in 2012 she was first – but this year finishing on the podium comes with much higher distinction; as an incoming junior at HRVHS, DeHart moved from the Cadet age group to the Junior, which means older, stronger and more experienced competition.
Of the three boys, Marquez had the best showing. The recent triple-crown winner (2013-14 state collegiate, freestyle and Greco champion) went 5-2 in the 132 pound Junior Greco bracket but was knocked out before podium rounds. In the freestyle tournament, the incoming HRV senior received a bye, won his second, lost his third by a narrow 10-9 margin and was knocked out of the tournament in the fourth by injury default after taking a blow to the head.
In the 220-pound cadet Greco bracket, Lane went 2-2 and was knocked out one win away from placing. He had a tough go in the freestyle bracket, losing his first two and getting eliminated early.
Andrew DeHart, the eldest of the bunch who graduated HRVHS this spring, won just one of four matches between the two tournaments in the 145-pound bracket.
Steven Swafford trained and traveled with team but was unable to wrestle due to injury.
"They represented our community well," HRV coach Trent Kroll said of the bunch.
The five had to qualify as members of the Oregon National Team by placing in the top of their weight classes at state freestyle and Greco tournaments earlier this spring. While they were battling the stifling summertime humidity of the Midwest, 16 of their teammates were baking dust cakes in the 100-plus degree weather and in eastern Washington – Pasco to be precise – home of the Red Neck Dual Meet Wrestling Camp.
The camp ran from July 13-16 and brought 45 teams from Washington, Idaho and Montana together to wrestle a ridiculous total of 21 dual meets in three days.
"We were the only full team from Oregon," Kroll said. "It was a very competitive and tough tournament and our team battled hard and got better from the experience. Our kids represented Hood River and Oregon well, both on and off the mat. I'm proud of them."