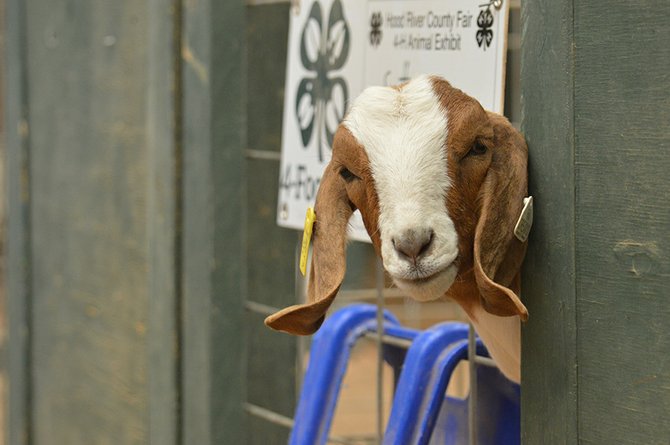 Old friends meet up
By KIRBY NEUMANN-REA
News editor
One of the great things about the Fair is meeting up with friends you haven't seen for a while.
It happens all the time: You see someone you last talked to a few months or a year ago, or longer, and quickly get reacquainted. Your kids' eagerness to get to the carnival or to meet their own friends might cut the visit short, but it's still a good talk.
A half-hour later it happens again, with someone else. Glimpse and repeat.
At 1:15 on Thursday afternoon, two old friends met up at the Wool Bustin' arena next to the midway. They exchanged hugs and "how have you beens?" and it was clear these two people were happy to meet up again.
It had been one year since Frank Rendin and Hayley Sewell, 8, crossed paths.
Hayley, of Odell, competed in past years in the fun events at the Wool Bustin' arena, where Rendin and his staff provide a kind of rodeo warm-up in which kids 55 pounds under get to ride a sheep bareback, do stick pony races, or try taming a small mechanical sheep.
Hayley was too big this year to compete, but she came by to greet Rendin, the affable fun-on-sawdust impresario who brought Wool Bustin' to the fair four years ago and it seems like he's always been a part of things.
"You been well? Sure wish you could compete this year," Rendin told Hayley.
"I do, too," the youngster replied.
Asked to pass on wool-busting advice, Hayley said, "You kind of hold on with your legs and just kind of close your eyes when you're about to fall off."
What she likes about the fair is, "You get to go on rides and go on the drop zone. And I like that you get to pet animals."
Goats bring back memories of fairs gone by
By BEN MITCHELL
News staff writer
For the first time in my life, I had to go to the fair by myself this year.
Growing up in Upstate New York, it was a tradition for my mother and me to attend the "Great New York State" Fair almost every year in Syracuse. When I was older, I went with my friends to our village fair, in Skaneateles, N.Y., a tiny event featuring little more than a handful of food vendors, midway hawkers, and precarious-looking carnival rides.
Upon moving to Hood River, I've gone to the county fair with friends and significant others the past few years, but flew solo in 2014 — liberating, in that I had complete autonomy in setting my fair itinerary, but at the same time, lonesome.
It didn't take long for me to find a friend though. As I entered the animal exhibit, I passed by the ends of the goat pens with my camera bag, when a single Boer Goat maneuvered her head and floppy ears through the fencing to give me a comical, quizzical look. I took out my camera, snapped a few pictures and proceeded to the end of the barn to examine the turkeys, geese, and other fair fowl.
I looped back down the other side of the pens, past the goats, when the same animal poked her head and shot me a look once again. None of the other goats seemed to pay me much mind, content to munch their hay, their horizontal pupils directed elsewhere at points of unknown interest.
I examined the ear tag in my photos to determine it was indeed the same animal: a Boer Goat by the name of Sassy, owned by one Dexter Hooper. I gave her a pat and was reminded of going to the animal exhibits at the New York State Fair with my mother as a young child. The friendly nature of the goats made them her favorite animal at the fair and she always asked me if we could take one home. We didn't have the time nor the aptitude to take care of farm animals, but I still to this day remember promising her, as a child, that if I ever won the lottery, I'd buy her a big farm of her very own with room for lots of goats to run and play.
That may be a ways off still, but don't worry, Mom; I'm still working on it.
Why blue, red and black ribbons?
By ADAM LAPIERRE
News staff writer
After meandering around the fairgrounds for a couple hours last Wednesday afternoon — stopping dutifully at the poultry barn to check out the cute little chicks and bunnies, and the nearby arena to watch a couple 4H sheep showmanship contests —I pass through the gauntlet of carnival games and aromatic deep fried food stands and head for the gymnasium to check out this year's many arts and craft entries.
Surprised to see the Blue Gym empty, for the first time that I can recall in my 20-something years of attending the fair, I head across to the Gold Gym, where the photography exhibit is housed along the back wall. I'm perusing thoughtfully through the head-high racks adorned with hundreds of images when I hear a couple discussing the merit of a third-place ribbon one particular photo was awarded.
"Well, Adam is a pretty harsh critic," the woman says. "This is a great photo; I wonder what he thought was wrong with it."
I listened from the back side of the rack for a few more moments, then came around and introduced myself.
"So tell me, then, what's wrong with this picture," she asks, with a smile and friendly tone.
The photo features three young deer standing in a row with a wood fence in the immediate background.
As this year's judge for the photography exhibit – the second time I've been enlisted in the last three years — I was tasked that Tuesday afternoon with grading each photo entry with either a blue, red or black ribbon, and then deciding grand champions for each age group. Blue ribbons signify first place, red second and black third, although that distinction is a bit moot since every entry gets one of the three.

"Well," I explain, looking closely at the image. "The deer certainly are cute, but the photo is a bit soft and pixelated, and the fence in the background is pretty distracting."
After brief deliberation, she concedes with the award and moves on to ask me about another of her images, which I had also awarded with a black ribbon.
The picture is of the Sears tower in Chicago, which she entered for the architecture category.
"Yes, that is a photo of a building," I say. "But what makes it a good photo? Is this anything different than what someone standing on the sidewalk would see? I would say, not really."
Reluctantly, she admits she took the photo from the window of her car.
Not wanting to seem insensitive, I ask what other photos she entered, and if any of those had been judged more favorably. She has several others, she says, and of those three had first place ribbons.
When I did the judging, I explained to her, in addition to individual entries, I looked at each photographer's work as a whole and I tried to give everyone a mix of awards based their entire "portfolio." So, as with most who had multiple entries, she had several first place awards, several second and, yes, several third.
This seems fair, she says, and thanks me for my time and effort before we part ways.
With fewer people to help judge, sort, record and hang the photos this year, I didn't have time to write comments on the back of the judging tabs, and, having judged people's artistic efforts critically (but fairly, in my opinion), I appreciate this opportunity to explain a few basic standards that seem particularly reliant to this year's batch of entries.
Number one: It's about photography, not cute kids and puppies. I'm not heartless, but it doesn't matter how adorable the floppy-eared retriever or grandpa holding the little baby are; if the photo is out of focus, underexposed or blurry, it gets a black ribbon.
Number two: Mount Hood is beautiful, but a picture of it — or any other landmark — from the side of the road just doesn't cut it.
Number three: Yes, flowers are pretty, they smell good and they make women happy, but photos are not scratch-and-sniff, and simply sticking your camera close to one and pressing the shutter rarely makes for a great photo.

Number four: Sunsets, like flowers, are pretty and make people happy, but simply putting your camera on auto and pointing it at the clouds rarely yields something special.
Number five: Do you know your camera or rely on your camera? Digital photography makes taking pictures simple, but to a trained eye, it's usually pretty easy to see who has an understanding of light and camera as tools and photography as art, and who is simply relying on a "smart" camera to capture images. Understanding the former is the first step in becoming a true photographer.

Fair office works quietly behind the scenes
By TRISHA WALKER
News staff writer
When most people think of the Hood River County Fair, they think of animals, carnival rides and exhibits.
But for me, the fair also means a visit to the front office.
Here's the thing: When the going gets hot (or cold, as was the case this year), I like to head indoors. And as luck would have it, my mother works in the fair office, so I have an excuse to visit.
All of that is to say that I waltzed into the fair office Saturday afternoon to take a break — things were heating up again after the cold spell. And sure enough, I found my mother there.
Mom — or Nancy Morrissette to the rest of the world — has been working during fair week for the past 22 years. She and Irene Zimmerman, who has been doing the same for 25, are the ones who make sure people get the correct premiums for their fair entries.
You'd think I'd have known that, what with the duration of their fair years and the frequency of my visits, but this was the first time I actually thought to ask.
The two have their own system, Irene said, going from card to judging sheet to book, where the information is finally compiled onto one final sheet per person: What they won in each category they entered and how much they're owed.
Having all of this information in one place is important because come Saturday afternoon, people start lining up at the fair office to cash in their premiums. Both Mom and Irene have a window, and children and adults must give their names and sign their sheets before receiving their cash and/or ribbons.
Something that always surprises them each year are the number of people who don't realize they can earn money for their entries—many think ribbons are all they receive.
"There are still people who are surprised they get money, which is fun," Irene said.
"Kids love the ribbons, and they're so happy to get their dollars," Mom said. "They're surprised because they didn't know they had that coming."
Mom and Irene have worked this one week a year for so long because they enjoy catching up with each other. They're friends outside of the fair, but real life doesn't often afford them the luxury of just being able to talk. It makes the week go by quickly.
"It's the people we work with and the fun of it — that's what it's all about," Mom said.
Also in the office are fair manager Clara Rice and secretary-extraordinaire (my title, not hers) Kathy Guthrie. Kathy works two weeks a year, specifically during fair, doing a little bit of everything as she has done for the past 14 years—answering phones, selling ride bracelets and season passes, ordering ribbons and helping Clara, Mom or Irene as needed.
One common theme in the office this year: It was the coldest fair any of them can remember, as well as the wettest. The good news is that, while people initially stayed away on Wednesday, they started to show after the rain died down.
The other good news is that no one seems to mind that I just prance into the office each year to get out of the elements. I suppose it helps to have a family connection.
Getting in that livestock clean-up rhythm
By KIRBY NEUMANN-REA
News editor
Who needs the midway when you have Leah and Emma for entertainment?
Leah Deborde and Emma Kroll of Barnyard Bandits 4-H group put a musical twist on their barnyard duties.
The two 10-year-olds danced and sang to a "bop-bop" rhythm out of "High School Musical 3" as they prepared for cleaning goat pens.
Fellow 4-H-er Ellie Smith, 15, waited patiently as the girls got the dance out of their system, before reminding her friends that they had work to do. But the girls had "bop" on the mind: Leah still wore her "Bop Piggies" nametag from the 4-H scavenger hunt, called "The Amazing Race," earlier in the day.
"We named it Bop because we did this, 'Bop Bop-Bop!'" Leah said, and the girls did the routine one more time (at the photographer's request, it should be noted), finishing off with a complex hand-clap routine.
An impromptu dance in the livestock area is not that strange a thing to see at the fair. This is a place where friendships are made and existing bonds are tightened. Leah and Emma did their dance during that late Saturday afternoon calm time at the fair. Also, the livestock pens were looking particularly clean at the time.
The Amazing Race is one of those bonding times, as mixed-age groups go around together to fill out their lists but also get a broader view of all the fair has to offer.
Among the items the Amazing Race teams had to locate was "a handmade cat."
That turned out to be Morgan Newton's pink-collared kitten Fergie, which won Best Handmade Item in youth open class — see a photo of it at right.