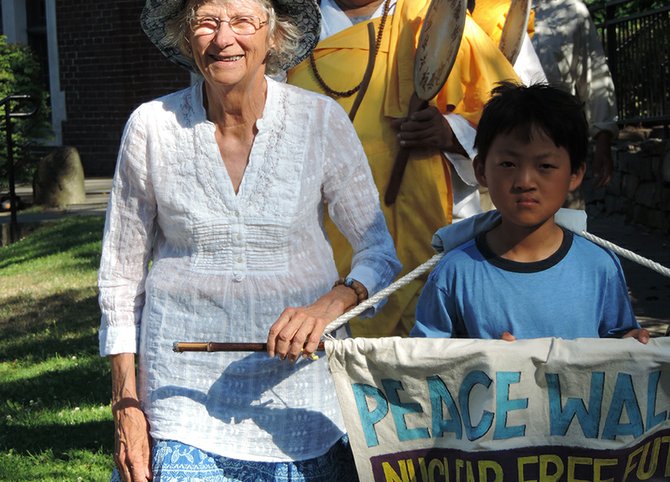 A quiet call to peace brought two Buddhist monks and friends to Hood River Monday.
The occasion was the White Salmon and Bingen and Hood River legs of the 2014 Pacific Northwest Interfaith Peace Walk, July 23 to Aug. 9 throughout Oregon and Washington. Peace Walkers travel about 15 miles a day and stay with friends and supporters.
"This annual peace walk is an opportunity for all people to walk and learn together in a non-violent, spiritually motivated action to ensure a safer future," according to organizers. It is sponsored by Nipponzan Myohoji Temple in Bainbridge Island, Ground Zero Center for Nonviolent Action for Peace, Veterans for Peace, and other activist and church organizations.
Brother Senji Kenaeda and Brother Gilberto Perez of Nipponzan Temple were accompanied by Robbie Lapp of Parkdale and supporters from Washington State, California and New Jersey.
They walked Monday morning in Bingen and White Salmon, and in Hood River on Monday afternoon. The route started at Waterfront Park and passed through downtown to 13th, and to Oregon State University Experiment Station Japanese Garden and back. (The walk started in Salem and continued in Portland on Sunday.)
"I saw many good reactions today, on both sides of the river," Brother Senji said. "People would stop and wave," said Lapp, who has walked with the Nipponzan brothers all three years it has visited Hood River. Brother Senji explained, "Our original relationship with Hood River is one of the organizers of the Peace Walk, Chisao Hata, of Portland, whose parents were born here and grew up in the valley and were incarcerated during World War II. She had a strong relationship to Hood River and wished that we walked here. She is a dancer and a teacher and a good organizer."
Brothers Gilberto and Senji continued their walk Tuesday at Hanford, and in August will be in the Puget Sound area, including Olympia, Tacoma, Seattle and Bainbridge. The Peace Walk culminates with a lantern ceremony in Seattle on Aug. 6, Hiroshima Day, and Aug. 9, Nagasaki Day, with an action at Bangor nuclear submarine base west of Seattle.
"We keep alive the memory of Nagasaki and Hiroshima," said Lapp, who has visited both cities.
"Our theme is 'Respect for all life — a nuclear free future,' but I wanted to add to it a theme of this particular time, 'Stop the War'," said Brother Senji, a native of Japan. "The world is very unstable and a very dangerous situation in many parts of the world and that is very connected to nuclear weapons, because nations such as Pakistan and India have them, and once a nation uses nuclear weapons, we may become contaminated and it is very dangerous. So whatever we can do we want to do, and that is why we walk: very simple things, walking and chanting and praying, but that is the only way we can do it. Also, this is interfaith. We walk together with Christian people and Native Americans and many kinds of communities."
"It's been very helpful to me, to turn my care for the earth and concern for the people here to do some activity that isn't militant," Lapp said. "I don't think anything militant works. This is my pleasure, it is my passion. Seeing this beautiful place and having it be a National Scenic Area and realizing it is so special, that it needs to have a river that supports the salmon and the people who swim and recreate on her."