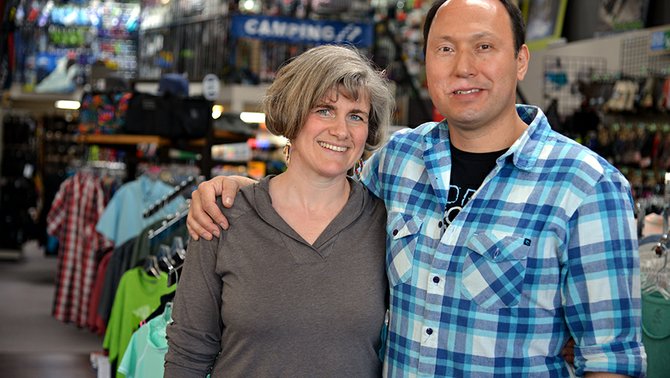 Second Wind Sports moved from its longtime location on Oak Street in April to its new store on the corner of Second and State streets — formerly The Pines Tasting Room — and things are going pretty well, says co-owner Pepi Gerald, even with the State Street construction project right outside the door.
"State Street is going to be the nicest street in town when they're done," he said, citing a number of improvement projects, from expanded parking areas to pedestrian-friendly, larger sidewalks. But what he's most excited about is the improved accessibility the new store offers its customers.
"We have two load and unload zones, which is good for people dropping off or picking up gear," he said. "Oak Street tends to be really congested, and it was a challenge for our customers who needed to access our shop."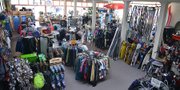 The new store is also airy and bright, with large windows and better lighting, and even includes a customer restroom.
Gerald has kept the layout of the new store somewhat similar to the old one, he said — sales counter and skateboarding items in front, clothing in the middle, and consignment in the back, with camping equipment located in the upper loft department. He's expanded several areas, including the longboard, skateboard, ski and snowboard tech, stand-up paddleboard and camping sections.
He's also been working on several local partnerships, including the new Stoked Roasters on the waterfront, which should be up and running soon.
"We'll offer coffee to our customers and have a mini coffee and Wi-Fi bar," said Gerald. "We'll have public Wi-Fi for customers who want to get a coffee and hang out. (Stoked) will pass customers onto us, and we'll pass customers on to them."
Gerald co-owns the shop with his wife, Erica Gerald. She had the financial and marketing side of the business and is the voice of Second Wind's radio commercials. Gerald is the face of the shop, he said, and with 25 years of experience in the sports industry, he gives a lot of advice in addition to sales and rentals.
"As a community retailer, we want to fulfill people's needs instead of just selling stuff we have in the shop that they don't really need or want," Gerald said. "We provide people the right equipment to enhance their experience in whatever sport they're perusing.
"Being a local shop, we'll continue to support local nonprofit agencies," he said. "When people spend money at a local shop, the local shop supports the community. That's where we try to put our donations when we can."