The open position of Hood River mayor has its first announced contestant.
Paul Blackburn announced Monday he will file for the office of Hood River mayor on Wednesday. Incumbent Mayor Arthur Babitz said he does not plan to run for re-election.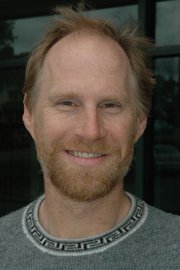 Wednesday is the first day to file for municipal positions on the November general election ballot; the final day to do so is Aug. 25. The position of mayor, now held by Tom Cramblett, is open in Cascade Locks as well as Hood River, and both city councils have several seats on the ballot. Interested candidates should contact city hall.
Blackburn, 48, was appointed to an unfinished term on City Council in 2004, and won election to the seat in 2006, serving until 2008 when his family lived in Ecuador for six months.
Blackburn said, "Working with committed local neighbors on important issues is a super fun thing. I'm surprised more people don't do it."
Blackburn and his wife, Dr. Kristen Dillon, moved to Hood River in 2000, and have two daughters. Dillon is partner in Columbia Gorge Family Medicine on the Heights. Their older daughter, Althea, will graduate from Hood River Valley High School this week, and Rosie will be a ninth-grader at HRVHS next year.
"It's a good moment for me to do this," he said. "Arthur is not running; someone needs to carry on the good service that's been going on. I'm really grateful to council and staff for putting the city in a good spot," he said.
Blackburn was a founding member of the Library District board, serving a term that was procedurally phased out after creation of the District in 2011. He is president of the Teacup Nordic Ski Club, a member of Hood River Education Foundation, and has served on United Way board for more than 10 years.
"I know a lot of people and have demonstrated a pretty strong commitment to public service. I feel I can capably lead and look forward to doing that at the city," Blackburn said. "I think I have the kind of personality that's needed; I'm good at talking to people, which I feel I have demonstrated over the years."
Blackburn has also served on school local committees at May Street and Hood River Middle, and had a stint on the Hood River Valley Parks and Recreation budget committee. He was educated at Dartmouth College.
The chief challenges facing the city in the next three years are finding solutions to affordable housing and the continued evolution of the waterfront. Blackburn said affordable housing was an issue in his time on council seven years ago.
"We were struggling to come up with something and now it has come back around. We need to figure out a way folks who work here can afford to live here. I have some ideas, and the state has ideas about what we can and can't do, but there are some things we can do to try to provide for more housing for more of our local workers."
The waterfront is important "because that's the jewel of our community and we've seen a lot of development of both parks and industry and how that finishes out will have a huge impact on our town, particularly in the Nichols Boat Basin area.
"It's important to have the public involved in the process in what development will happen," Blackburn said. While most of the waterfront is owned by the Port, the city's influence is over zoning and appropriate use adherence "and having the plan meet with reality and have it be the best thing for the citizens."
He is also concerned about "the eternal question of parking.
"We need to look at what it is businesses, the city, customers, and what residents are hoping for. I look forward to working with other committed folks so we can continue to have a thriving downtown for all of us to enjoy."
Blackburn said, "We moved here with a preschooler and a babe in arms, and now my older daughter is about to enter college. We raised our kids here and this is our home, I love this place, and lots of us love it. It's not like anywhere else and we have to work to keep it that way."