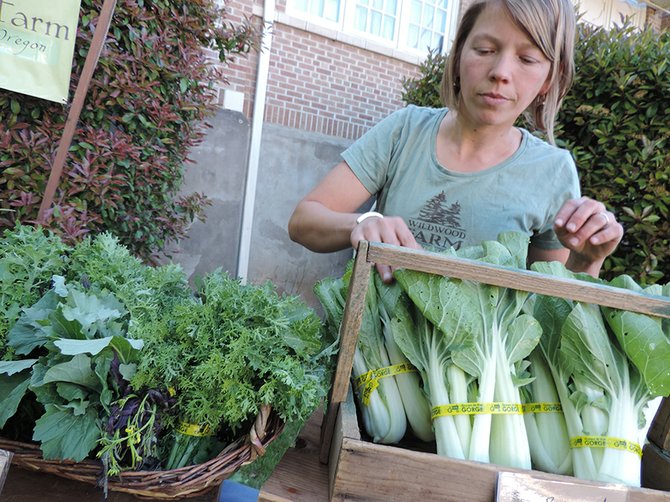 Community Supported Agriculture — or CSA for short — has gained wider recognition in the past few years, a natural extension of the local food movement, although they've been cropping up nationwide since the 1980s. Hood River County has six CSAs, with several more located throughout the Gorge.
We profile the six CSAs here as a way to show the wide variety of local produce available within the community. By directly connecting growers and consumers, and keeping the nurture, harvest and sale of produce local, CSAs play an increasingly important role in the Gorge agriculture industry.
Where can you get fresh, seasonal produce grown by local farmers delivered weekly?
Here in Hood River County, of course.
Gorge Grown Food Network describes CSAs as "a magazine subscription to vegetables." Members buy shares at the beginning of the growing season, giving farmers a financial boost at planting time, and sharing in the risk and reward of that year's crop.
CSA Details
Visit the Gorge Grown website: gorgegrown.com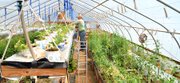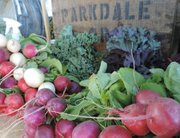 CSA offerings differ from farm to farm, but generally include a weekly box of seasonal, often organic produce. Share prices also vary, as does the method of delivery — some deliver to your doorstep, while others deliver to a centralized location.
"I think the local food movement has been gaining steam for several years, and people are realizing that buying from your local farmer not only results in better quality food for your family, but also helps support and stimulate the local economy," said Maria Eby, Hood River Organic CSA manager.
"I feel very fortunate to not only run a CSA, but to be a part of several others. I am proud of the fact that almost everything my family eats is from a local farm, our home garden, or from a local baker, brewer or food producer."
Hood River County CSAs are listed below, in alphabetical order. Most still have shares available for purchase, and some even offer flexible membership plans. Contact individual farms for specifics.
Casa Verde is located on Alameda Road in Hood River and is owned by Ryan Goodwin and Moria Re--ynolds. The farm grows salad greens, kale and herbs, as well as tomatoes, peppers, cucumbers, and winter and summer squash.
Reynolds said the farm is best known for its early tomatoes, grown in greenhouses and available June through August. The CSA runs eight months out of the year, from March to October, and boxes are delivered to shareholders' homes. The CSA is still taking on new members.
"Our production is looking really good," said Reynolds. "We make 30 deliveries a week right now and can go up to 40."
Casa Verde got its start in 2011 and has enjoyed a steady growth since then. The farm is comprised of a 3,000-square-foot greenhouse and an equal share in outside space. For more information, visit casaverdecsa.com or call or text 541-400-9510.
Cutflowers for You provides bouquets from the end of June until mid-October. Owners Randy and Wendy Gray deliver the bouquets weekly to homes and businesses, collecting the previous week's vase back for reuse to keep costs down.
The CSA has been running for 10 years under the Field to Vase program, which is part of the Slow Flower movement (similar to Slow Food; more information can be found at slowflowers.com, of which Wendy is a contributing member).
Although the farm, located on Neal Creek Road, is not certified organic, it is chemical free.
Full and partial shares are still available. The Grays also provide flowers to local florists and work with other local growers. Orders for individual bouquets are also welcome on an as-needed basis — and she can provide wedding flowers, too, with a variety of options.
Call 541-354-1893 or email hoemangray@embarqmail.com for more information.
Hood River Organic has two locations — a mushroom farm and orchard in Dee, and a vegetable farm on Alameda Road in Hood River. But the contents of its CSAs come from farms all over the Columbia River Gorge, as well as from Yakima and Portland.
CSA shares are available year-round and come in small (for 1-3 people) and large (4-6 people) and feature local certified organic produce. Membership is flexible and those interested are able to join at any time of year. Boxes can also be customized to include only what shareholders wish to eat.
Wednesday is delivery day, with pick-up locations in Hood River, The Dalles, Bingen, White Salmon, Parkdale, Dee and The Dalles. Home delivery comes with a $4 extra charge.
Hood River Organic is owned by Dan Thall; Maria Eby manages the CSA end of the business. Eby said Hood River Organic is known for the criminis and portabellas they grow on their farm. To learn more about Hood River Organics' CSA or to sign up, visit hoodriverorganic.com, email csa@hoodriver
organic.com or call 541-354-2111.
Mount Defiance Forest Farm is a small farm and homestead located on Kingsley Road. Owner Woniya Thibeault grows a variety of organic vegetables, including specialty mixed salad greens. CSA shares are still available and are delivered weekly.
She also sells a variety of handcrafted goods and holds classes in homestead and ancient life skills.
For more information, call 541-231-2230.
Tumbleweed Farms, located in Parkdale, is owned by Taylor and Andrea Bemis and provides a 30-member CSA with fresh-picked vegetables over a 25-week season. The farm's specialty is lettuce, but they grow over 50 different vegetables, which are available on Thursdays at the Hood River Farmers Market at Hood River Middle School, as well as at a handful of Gorge restaurants.
The core of the farm's CSA all work for the same Portland-area business, Barre3, said Taylor, where they make weekly deliveries. Local CSA members have the option of picking up their boxes at the farm or at one of the area farmers markets, and shares are still available for purchase.
Contact the farm at tumbleweedfarmparkdale@gmail.com or 541-647-8876. Interested parties can also visit gotumbleweed.com.
Wildwood Farm is located in on Binns Hill Drive and is owned by husband and wife Paul Brown and Lauren Bourret. They grow 40 different kinds of vegetables, encompassing around 250 different varieties. They are not certified organic, but follow all organic growing standards.
Bourret credits Oak Grove's good soil for the flavor and quality of their produce, and cites carrots, sweet peppers and kale (all six varieties) as fan favorites.
The farm's 2014 CSA is already filled for the season, but names are being compiled on next year's list. The CSA is purposely kept small to keep the farm operation at a manageable size, said Bourret. Those who have already purchased shares pick up their boxes weekly at a centralized location in Hood River.
You can still find their produce at the Hood River Farmers Market at Hood River Middle School, Thursdays, May through November, from 4-7 p.m., as well as at several local restaurants. For more information, email farm@wildwoodharvest.com, or visit wildwoodharvest.com.
Dinners at Organic
Hood River Organic has two farm dinners planned this summer, the first on July 13, from 4-7 p.m. at 5541 Alder Road, Hood River. The dinner is hosted by Celilo Restaurant owner Ben Stenn and served at the farm of Hood River Organic owner Dan Thall.
Dinner will be served at 5 p.m., but those attending are encouraged to come early to stroll around the farm. Only 120 tickets will be sold at $100 each.