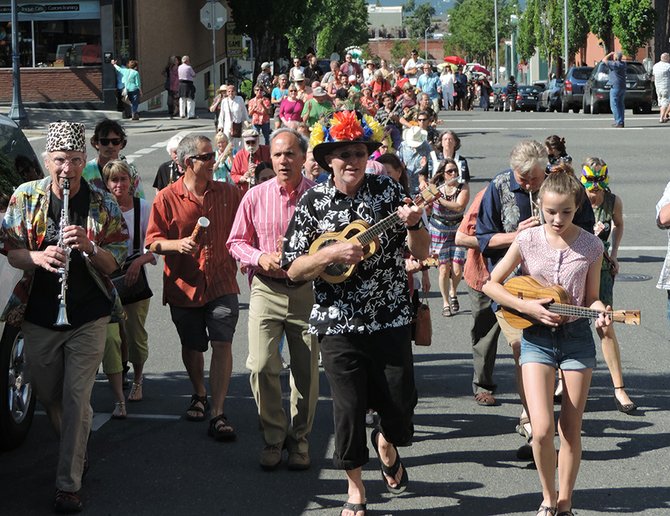 "Keep on playing" was the hilarious punch line of the story Hood River musician Kerry Williams told of his friend Rick Hulett, during Saturday's memorial service attended by about 300 people, filling Riverside Community Church.
Williams, who with Hulett played in the Cascade Trio band, recalled a bar gig in Astoria when a fight broke out. "It was a full-on brawl, in front of the stage. I asked Rick, 'What do we do?' and Rick just said, 'Keep on playing; keep on playing.' And that's what we did."
Ricky Harold Hulett was born in Lubbock, Texas, on July 9, 1952. He died April 22 at age 62, with his wife, Sharon, and children Travis and Hannah at his side.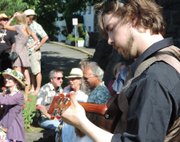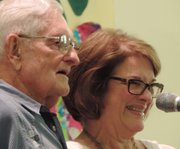 Travis played "Father and Son" by Cat Stevens, with Williams on mandolin; Kozen Sampson of Trout Lake Buddhist Monestary gave a meditation, and Moe Dixon led the congregation in Bob Marley's "Three Little Birds" ("Don't worry 'bout a thing/'cause every little thing's gonna be all right").
Williams and other friends from Hulett's signature band Bigfoot performed Hulett's song "May You Be Well," based on a Buddhist prayer.
Rick's father, Jerald, and sister, Pam, spoke, with Jerald telling the assemblage, "I know Rick loved all of you very much. I know that because he told me and because he was a good man who always acted out of love."
The service melded into a New Orleans-style parade of more than 200 people through the downtown streets, featuring a mainline band and 50 or more ukulele players colorfully garbed friends, many carrying bright umbrellas.
Family friend Juliana Walters said in Rick's eulogy, "Rick was always full of surprises with an outrageous sense of humor that could be as base as the blues and as complicated as one of Mozart's sonatas. More than any other quality, musical gifts notwithstanding, he was a man of the heart. He loved who he loved. He had the soul of a preacher in the body of a bad-ass guitar player and when he was diagnosed with appendix cancer, he rose to the occasion like a cyclone and took us all for a grand ride."
Waters said Hulett started his first band at 13: The Silhouettes.
"All the boys wore matching suits their moms bought for them. And their fathers built a trailer to haul their equipment with. 'And we were good,' Rick said with that big, cocky grin on his face. There have been countless bands and countless gigs.
"'Bars are my church,' Rick told me. "Here is an imperfect but impressive list of the bands Rick has played with: Tabernash, Hope, Tommy Hancock and the supernatural Family Band, Barlow Road, Flatlanders, Django's Cadillac, FretTang Nippers, Wasco Brothers, OneHum, Heart and Hammer, Lone Star Fogmen, DK Little, Maines Brothers, Crannel and She Who Shall Not Be Named, Joe Ely Band, Austin Heat, and the Hapa Hillbillies.
"Something wild and wonderful in need has taken Rick away from us. Our task is to grieve our losses, remember, laugh and grieve more. Rick, however, did not believe in forever endings.
"He said, 'I don't believe that this is the end of my existence. It's the end of my life on this plane, but something loosely organized as me, though it may not have a name, will continue to exist, will continue to do things.' He grinned, added, 'And when I die, I'll get to play with Levon Helm's band — that's what I believe.'"
Waters read her poem about Hulett, "How It Will Be."
The Bigfoot Fund
Before his passing, Rick Hulett and his family created the Bigfoot Instrument Fund. This fund is designed to provide young music students with quality instruments to enable them to continue their musical development and as a reward for their progress and interest in music. Rick wanted to give young musicians the thrill of holding their own instrument in their hands for the very first time.

The Bigfoot Fund is designed to provide instruments to fourth- and fifth-grade students across the Hood River School District. Students will be nominated by teachers and selected by a small group of Rick's family and friends.
To support the Bigfoot Fund, make checks payable to Hood River Education Foundation and write Bigfoot Fund in the memo line; mail to:
Hood River Education Foundation, 1009 Eugene St., Hood River, OR 97031