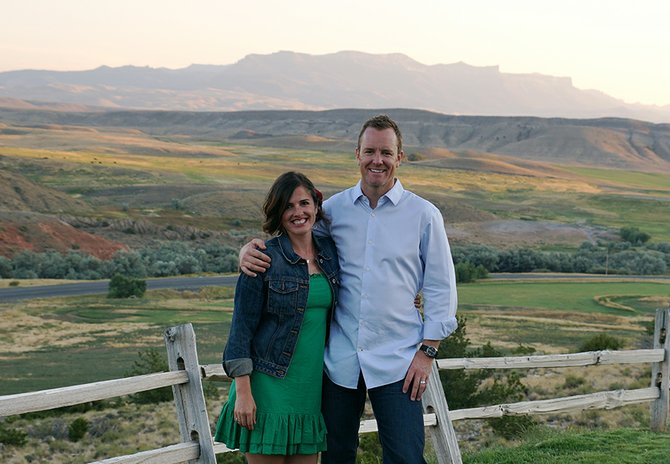 If there's small solace to be had in this tragedy, it's that Matt Klee died doing something he loved.
A message from HRATS:
(Below is an excerpt from a statement Hood River Area Trail Stewards sent out Monday afternoon.)
"Words can't convey how awesome Matt was. He was kind. Caring. Thoughtful. Funny. Passionate, Driven. A good listener. Level-headed. He had ideas, and he executed them. At our meetings, he listened to our always passionate, sometimes unruly board members share their ideas, and he kept them focused on the task at hand. He stayed calm. He kept the meetings on track. He was the force keeping HRATS moving forward, and he did it by being the kindest, most level-headed, sweetest, most genuine and driven person to ever work in mountain bike advocacy.
You can see Matt's work on the features in Family Man and in the new set of training jumps just below Family Man. Matt didn't build those for himself. He built them so his wife and everyone else would have a safe place to learn to jump. You'll find Matt's spirit in Lollipop Lane, the kids' loop in Family Man. Matt and Jen didn't have kids, but Matt gave countless hours to build a trail so your little ones would have a safe place to ride. That's the kind of guy he was. Incredibly giving. Always moving forward on another project that would make our trails better for everyone, not just for him. We miss him terribly. He is irreplaceable. There is nobody else like him ...
HRATS will continue, and yes, we'll be naming a trail after Matt. Oh, yes, we will. It'll take a bit of time, but you're going to love it. The Kleeway. Stay tuned for details on that and other things we'll do to memorialize this just-plain-awesome guy. Thank you for your support of HRATS and the Klee family in these tough times."
The 40-year-old Hood River resident and Insitu employee died tragically on Friday, May 30, while mountain biking at Whistler Bike Park in British Columbia. Klee was an active community member and outdoor enthusiast who dedicated much of his free time enriching the local mountain biking culture as the president of the popular biking advocacy group, HRATS (Hood River Area Trail Stewards).
Klee had an enthusiastic and contagious zest for life that he shared generously with his friends, family and the community he loved. Although he will be missed by all who knew him, his passing is especially devastating for his wife, Jen, mother, Pat, father, Joe, and sister, Amy.
A time to honor and celebrate Matt's life is planned for 5 p.m. Saturday, June 7, at Best Western Hood River Inn's Gorge Room (1108 E Marina Way).
Friends are also invited to share a note or story with his family at andersonstributecenter.com.
Reports from Whistler Bike Park note that Klee, an experienced rider who frequented the park, was wearing proper safety gear, including a full faced helmet and a neck brace, when he crashed at the bottom of a rock feature on the park's advanced Lower Whistler Downhill run. Klee was riding with friends, one an emergency room doctor, who immediately began CPR while park patrol was called. Klee passed away before medical staff was able to stabilize him for helicopter transport to hospital.
This was only the second fatality in the park's 15 years of operation.