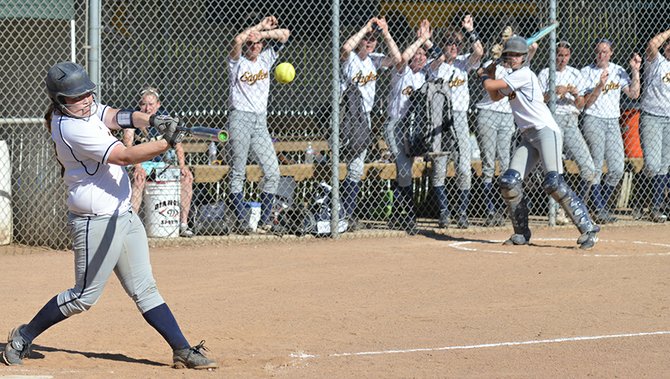 The Hood River Valley Eagles advanced to the OSAA/U.S. Bank/Les Schwab Tires softball state semifinals for the first time in 17 years after surviving a challenge from the tough Willamette Wolverines to get a 1-0 win in the 5A quarterfinals Friday at Westside Elementary School.
The win placed the Eagles in a semifinal showdown against Columbia River Conference Rivals, the No. 3-ranked Pendleton Buckaroos, Tuesday afternoon (results unavailable as of press time).
Friday's game quickly turned into a pitcher's duel between Columbia River Conference Pitcher of the Year, senior Kayla Byers, and Willamette sophomore Heidi Hall. Things turned in the Eagles' favor in the fourth frame, when senior third baseman Annie Veatch (1-for-2, walk) smashed a solo homer over the 200-foot left field fence that propelled the No. 2-ranked Eagles to the narrow victory.

"Of course it felt really good hitting that home run, which made it a very exciting game," said Veatch, the Columbia River Conference Player of the Year, who leads HRV with eight homers. "They (Willamette) were definitely a great team with an excellent pitcher and I have lots of respect for them. We just played solid defense and Kayla pitched a great game. It was nice getting the win to achieve one of our goals and now we hope to attain a few more goals as well before the end of the season. We just have to continue working hard in practice and take things one game at a time."
"All of the playoff games are going to include lots of pressure while being played at a high intensity level, which is something that we've prepared ourselves very well for," said coach Eric Keller. "We've been working even harder at practice than we normally do so that we're prepared for any type of situation that's possible in a game. It was a pitcher's duel and Annie just connected well on a pitch that she proved to be very capable of hitting it out of the ballpark. It was a tough game, but we played solid defense to pull out the win."
HRV and Pendleton split four CRC regular season games, with both teams winning two road games. Pendleton swept an April 19 doubleheader 6-0, 4-1 in Hood River. The Eagles then won 15-4 at Pendleton April 22 and won again 10-4 May 9 in Pendleton. The semifinal winner advances to the 5A championships June 7 at the Oregon State University softball complex in Corvallis.
"We'll have Game 5 with Pendleton to see who wins this series, which is tied 2-2," said Keller, whose Eagles have won 12 of 13 games. "I'm so incredibly proud of the kids for their performance today. We played solid defense and we had a good approach at the plate. I thought we would need more runs though even after Annie's homer. We've worked hard all season to get to this point of the season and it's incredible to be in the semifinals."
The Midwestern Conference Wolverines (16-9), from Eugene, nearly had a favorable start when sophomore third baseman Alyssa Gayle smashed a line drive to center field for a first-inning double. Gayle reached third base on a fielder's choice, but was left stranded as Willamette was unable to get clutch hit to bring her home.
The Eagles were unable to get their explosive offense (6.82 runs per game average) going in the bottom of the frame as it was scoreless after one inning. Both squads continued playing stellar defense with Byers (six strikeouts) and Hall (eight strikeouts) each leading their teams in the pitching circle as it remained 0-0 after three.
"They (Willamette) were really aggressive at the plate and it turned out to be somewhat of a stressful game at times," said Byers, who will continue her softball career in college while attending East Florida State in the fall. "She's (Hall) a very good pitcher and we didn't often see such strong pitching like that in our conference. I'm not taking anything away from her. She's a good teammate as well, because we played on an ASA traveling league team together a little over a year ago."
In the bottom of the fourth, Veatch connected off of Hall as she powered a ball well over the fence, giving the Eagles a 1-0 edge in what proved to be the game-winning hit. HRV's defense (1.85 runs per game average allowed) was stellar throughout, particularly by infielders Breanna Weekly (first base), Tabitha Merten (shortstop), Made Vallejo (second base), Veatch and Byers as they combined to thwart every potential Willamette scoring opportunity. Vallejo had a third-inning bunt single, which was the only other Eagle hit other than the Veatch home run.
Willamette, led by coach Darren Hatefi, went down one, two, three in the fifth. Hall performed admirably in trying to lead a Wolverine comeback as she silenced the normally potent Eagle bats in the final two innings. Willamette had a chance to tie and had batters at the plate representing the winning run in both the sixth and seventh innings.
"It was a fantastic game and we had ourselves in scoring position the last couple of innings with a chance to possibly get a win," said Hatefi. "They (Hood River) are a good team and they play great defense. We put the ball into play often and gave ourselves a chance, which is all you can really ask for. I give them credit for closing it out and preventing us from scoring. We just have a fantastic group of girls who played awesome all year and it was a pleasure to coach them. It was a close game and we just did everything that we could do to try and pull out a win."
Gayle reached base on an Eagle error in the sixth, but was unable to score after stealing second base and was stranded. The Wolverines, who outhit HRV 3-2, had one final chance again in the seventh as junior Allison Cook (1-for-3) lined a shot to right field for a single. Cook ran to second on a fielder's choice to get into scoring position as the Wolverines again had the winning run at the plate. Byers proved to have nerves of steel, though, as she struck out the last two Willamette batters to preserve the Eagle victory.
"I think if we just play our best, then we're definitely unbeatable," said Byers, who tossed an effective curveball to keep batters off-balance. "If we just keep hitting well and play aggressively, then we'll do fine in the next game. I hope we can keep going in the playoffs and make it to Corvallis, which would be really exciting. We're definitely capable of winning two more games."
The last time HRV made it to the state semifinals was in Class 4A action in 1997, when they faced North Medford and lost 1-0. The last Eagle squad to make it to the finals was in 1996, when HRV won 3-0 over North Medford to win the 4A state title. The 2014 finals will mark the fourth consecutive year that a CRC team has made it to the state finals. Hermiston went in 2013 and Pendleton advance to the finals in 2011 and 2012, when they won the championship.