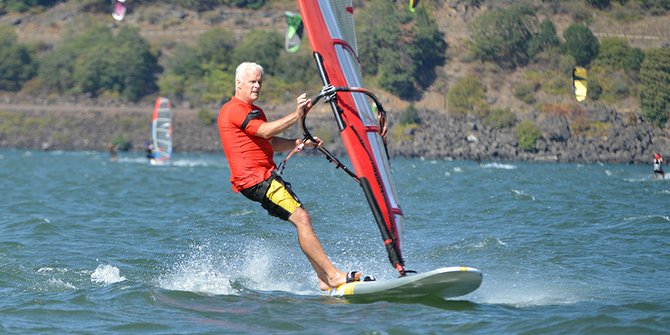 Ask founder Bruce Peterson to describe his business, Sailworks Inc., and he'll tell you it's just a cool little toy shop.
"You walk in here and you see huge tables for making sails, heavy duty sewing machines, racks of sail cloth, sails rigged up," he said of his North Wasco Court warehouse, which specializes in windsurfing sails. "Our specialty is the sail itself, but we do have masts and batons made for Sailworks."
The creation of a sail is a multi-step process that involves local prototype production and testing before the final product is sent out for mass production.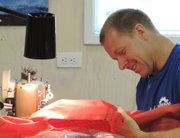 Designs are created in 3D via a high-tech CAD computer program, and the resultant pattern looks like a jigsaw puzzle — a lot of pieces of various shapes, sizes and colors go into one windsurfing sail. From there, the pattern is transferred to the "plotter," a digital cutting system that uses vacuum-like suction to keep cloth in place while the sharp cutter does its work. It's an efficient process, so there are very few scraps left over, but what is left, he likes to donate to local art teachers.
From there, the puzzle becomes a sail solely through manpower. Pieces are assembled by hand and run through the heavy-duty sewing machine, which uses air much like the plotter table, only this time, instead of keeping cloth in place, air is used to float it off the table — it's easier to run through the sewing machine this way, Peterson explained.
(The table was custom-built for Peterson by "carpeting buddies," he said. "We built the shop the way we wanted it. "It's a purpose-built building.")
In all, it takes two people two days to create a sail from start to finish.
"It's kind of an interesting process," said Peterson, who has 30 years of sail-making experience. "You start with rolls of cloth and tape and batons and the mast, and you end up with a three-dimensional wing."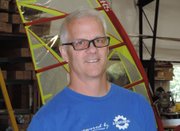 And then comes the testing of the new sail. Peterson puts all of his sails through a number of tests, making adjustments along the way until he's satisfied with the results.
He doesn't mind.
"I have to windsurf a couple of hours to test (a new sail). It's a dirty job, but I'm the perfect guy for it," he joked.
Once a prototype passes its tests, the pattern is sent to a factory in China for mass production. "A lot of our development is done in China as well," he said. "We don't make every single size (in prototype). We'll make key sizes and then they'll produce them there." Once the sails are completed, they're shipped to Sailworks — the warehouse serves as a distribution center as well. He makes an annual trip to China to make sure manufacturing is done "my way," he added.
Peterson said the cost of producing his sails is much lower in China than it would be in the States. "Labor cost is a big component," he said. "It's a lot cheaper in China than here." With material costs also ringing in with a lower price tag, Sailworks is able to sell its product on the wholesale market with a competitive price structure.
Even so, it's a challenging way to make a living. "I call it 'earning a lifestyle,'" he said. "The bills get paid. We're not getting rich, but I have a pretty fun job and live in a cool town and get to do what I want to do.
"I get up in the morning and I want to come to work," he added. "There are fun things to do."
Although sails are the company's main focus, Sailworks has fallen into what Peterson describes as a "nice little niche with industrial textiles," creating heavy-duty cases, covers and "heavy-duty fabric creations" for UAMs (unmanned armed mechanisms) to military specifications. And while Sailworks has always repaired sails after "customers blow them up," it also mends items like pop-up tents, flags and banners.
"We can make anything you want, and it's pretty fun and pretty satisfying," he said.
Peterson came to Hood River from Victoria, British Columbia, a few years out of high school and chasing the wind. An avid windsurfer, he spent Labor Day in town and experienced near-perfect conditions on the Columbia. "Hook, line and sinker, I took the bait," he said. From that moment, he knew Hood River was where he wanted to live.
This was at the very beginning of the windsurfing craze in the 1980s. Peterson was establishing himself not only on the professional racing circuit, but as a sail designer. He began his career at Windsure Windsurfing in 1983 in Vancouver, British Columbia, selling windsurfing equipment to friends. After moving to Hood River, he began making sails under his own company name, Strait Winds. But soon enough — by summer 1986 — he was working with Dave Russell at Rushwind Sails, and had become a partner by 1987.
"Once I learned to windsurf, that's all I wanted to do," he said. "I knew if I wanted to do that, I had to become self-employed."
He met his wife, Amy, a birthing center nurse at Providence Hood River Memorial Hospital and Colorado transplant, while working at Rushwind. The two created Sailworks Inc. and in May 1990, the first batch of sails was delivered to importers in Japan, Australia, Canada and the United States.
These days, Sailworks has a worldwide distribution — and can be found locally at Big Winds.
Peterson himself has been worldwide as a former national champion on the Pro Windsurfing Association tour. Locally, he's won the championship series of the Gorge Cup several times — not last year, he said, but for several years previous.
"I've always been involved with racing," said Peterson. "It's a part of the sport I've always been attracted to."
He's had multiple opportunities to move his business to Hawaii, but he's happy to live in Hood River. "I came here for the wind, and Hood River has plenty of wind," he said. "It's a wonderful town to raise a family and a great place to live."
He and Amy have raised two daughters here: Carly, who attends the University of British Columbia, and Zoe, who will graduate from Hood River Valley High School June 6 and will attend UBC this fall.
Part of what makes Hood River great — aside from our abundant wind — is that it's the kind of place where "you know the parents of your kids' friends," he said.
And Hood River's recreational economy is good for business.
"It's a vibrant community," he said. "People come here because there's so much happening. A crowd attracts a crowd."