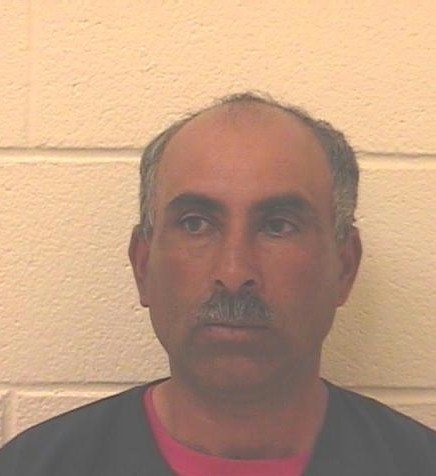 A local man convicted last fall of having sexual contact with horses in the Hood River area is once again behind bars after allegedly committing the same crime at the same address earlier this spring.
Jose Guadalupe Chaires Barrios, 50, of Hood River, was arraigned before Judge John Wolf at the Hood River County Courthouse Wednesday morning via video feed from the Northern Oregon Regional Correctional Facility in The Dalles on two counts of sexual assault of an animal as well as two counts of second degree criminal trespassing.
Chaires is accused of unlawfully entering the premises of Denny and Tammy Armacost at 4715 Portland Drive on April 1 and April 16 of this year and "did unlawfully and for the purpose of arousing and gratifying the sexual desire of a person, touch and contact the sex organs of a horse."
In November 2013, Wolf sentenced Chaires to 24 months of supervised probation as well as 160 hours of community service after Chaires pleaded guilty to similar charges of sex abuse of an animal and second degree criminal trespass after he had sexual contact with horses on the Armacost property. Wolf also ordered Chaires to obtain a mental health evaluation and complete any treatment that was recommended.
Chaires was also suspected of engaging in similar conduct last year with horses owned by Gail and Blake Palen at 2648 Reed Road in Hood River. Chaires was convicted on second degree criminal mischief charges after he damaged a screen window on the property, but animal sex abuse charges were never filed in that case. However, Deputy District Attorney Carrie Rasmussen noted during Chaires' November 2013 sentencing that Blake Palen "noticed serious behavioral problems with at least one or more of his horses," which he attributed to Chaires.
The explicit nature of the sex acts Chaires performed with the horse in the 2013 case weren't discussed in court, nor were the alleged acts in the 2014 case. There was also no discussion on Wednesday of what evidence led to Chaires' arrest, although it was noted in the previous case that the Armacosts had decided to install security cameras on their property after the original incident.
Chaires, who listened to the proceedings with the aid of a Spanish translator, was largely silent except to answer the court's questions about his desire for legal representation and whether his financial situation had changed since his last court appearance. He is being represented by Connor Sullivan of Hood River law firm Morris, Smith, Starns, Raschio, & Sullivan.
District Attorney John Sewell asked Wolf to hold Chaires without bail for violating the terms of his probation and to hold Chaires on $2,500 bail on the new charges. Sewell added that "potentially, there are additional charges that may be filed once Ms. Rasmussen returns to the office next week and reads the officer's reports."
Wolf agreed to the bail terms and set Chaires' next court appearance for Thursday, June 12 at 11 a.m. If convicted, Chaires could face up to a year in prison for each sexual assault of an animal charge, which is a Class A misdemeanor, as well as a fine of $6,250.
During Wolf's 2013 sentencing of Chaires, he indicated there would "likely be severe sanctions" if Chaires violated the terms of his probation.