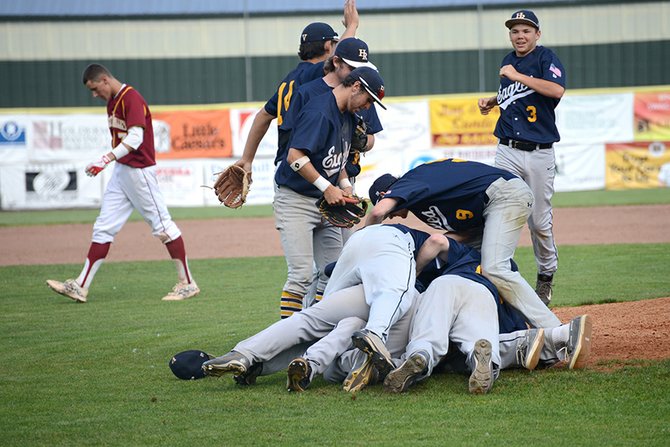 CORVALLIS — The "grind" continued with a stroke as Hood River Valley Eagles stunned the host and second-ranked Crescent Valley Raiders 8-1 on Tuesday, to win the Class 5A semifinal game and advance to the state final for the first time in 21 years. Eagle teams won state in 1986, 1988 and 1990 and reached the final in 1985, 1987 and 1993.
The Eagles will play Sandy on Saturday for the championship, at 1:30 p.m. at Volcanoes Stadium in Keizer. The game will be streamed live online at osaa.org/media.
"It comes down to your common goals, grind attitude and work ethic," coach Erich Harjo told the team after the game.
"Grind" might be the theme word for this team, which endured early-season struggles and rose to the occasion with a series of surprise wins in the post season.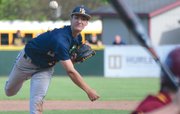 "We're staying positive and keeping it on the grind," senior outfielder Alix Jimenez said. "We're working hard, doing everything we can to be where we are. I feel like we're determined, really determined to take it all."
Junior Ryan Ward led the way at Crescent Valley with a dominant complete game from the mound and a 3-for-4 performance at the plate.
"It's awesome " said third baseman Kellan Duffy, whose first-inning two-run homer gave the Eagles an early lead that would prove to be all the momentum needed; the team increased its lead to 5-0 at the end of the first inning and 6-0 after the second.
"We had nothing to lose; we figured we might as well go all out and finish as well as we can," said Duffy, a sophomore. Winning the title "will take the same drive we've had the last two weeks, and another three days of hard work, that's for sure. I'm pumped."
(The team would likely work-in a practice on Friday, graduation day, for the senior team members.)
"It feels fantastic," Jimenez said of the win.
"It's amazing, not being .500 and coming this far," Duffy said, referring to the team's regular-season record.
"Coming in as a 19th seed; it's just awesome to prove everyone wrong," Ward said. "We've had an upset four straight games, so we're just looking to ride those four games and take the momentum into the state championship." He took a deep breath, looked toward the dugout and said, "it's awesome."
Ward will have four days' rest to start on the mound again Saturday.
"I'll be fine for Saturday. I'll be 100 percent for the state championship," he said.
Ward said the key Tuesday was establishing the inside fast ball early.
"I really wanted to dial it in today, and I figured if I got it in on their hands, no matter how hard I threw it today they wouldn't be able to turn on it," Ward said
Of the large run spread, Ward said, "I didn't expect it, but I knew we had it in us. Our offense is real hot now and pitching is getting us there."
This was a day of both offense and defense, as Ward threw nine strikeouts, including six in the last three innings, and walked just one batter.
The Eagles had 11 hits, in all directions, including liners up the third and first-base lines and two directly over second base. Ward had three of those hits, including an RBI, and Duffy was 2-3 with 3 RBI.
A Crescent Valley "Texas Leaguer" to center field, just beyond a dive on the grass by shortstop Skyler Hunter, was Crescent Valley's lone threat early in the game, as Ward and the defense clamped down on the Raiders.
One of HRV's three errors came late in the game when the outcome was all but certain, and another, by second-baseman Kam Walker, was a third-inning hard line drive Walker knocked down and had trouble picking up — but the throw to Connor Curtis nearly got the Raider at first.
In the second inning, senior catcher Austin Martin scored on a passed ball, to make it 6-0, knocking starting pitcher Caleb Smith out of the game.
Down 8-0 in the fifth, the Raiders pieced together their lone run on an error, Ward's only walk, and a single.
HRV came right back in the fifth to get two men on with a Duffy single and Martin's walk, and in the seventh the Eagles put two men on base again.
In the bottom of the seventh, Ward took to the mound again, striking out two batters and then turning to watch Jimenez close his glove on a long fly near the fence.
Harjo said "This is a great day for the future of Hood River baseball. I am unbelievably proud of all these guys and their hard work all season."
"You own this moment," Harjo told the players. "It's incomparable to anything I've seen from a baseball team … You know, fellas, I am so freaking happy for you and what you can accomplish."
Watch the game at the OSAA web site.