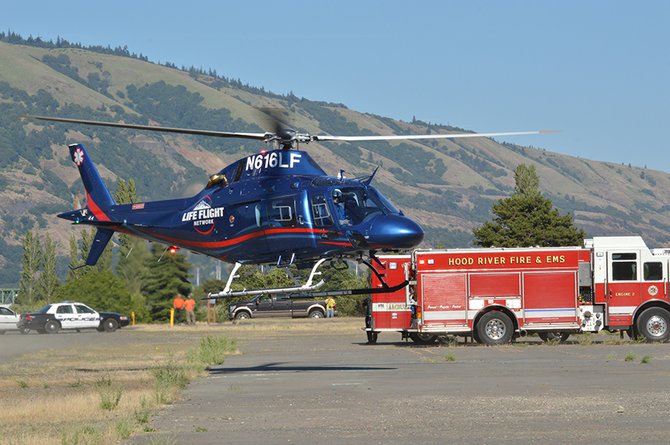 A worker at Hood River Juice Company (Ryan's Juice) is recovering in a Portland hospital after receiving hot water burns Wednesday afternoon in what a representative of the juice company referred to as a "freak accident."
David Carter, 56, who has been a production manager at the juice company for approximately seven years, was transported via LifeFlight helicopter to Legacy Emmanuel Hospital in Portland after receiving burns to approximately 25 percent of his body, according to Captain Dave Smith of Hood River Fire and EMS, who was one of several emergency personnel who responded to the incident.
Bob Francis, chief operating officer for the Hood River Juice Company, said Carter suffered the misfortune of "standing in the wrong place at the wrong time" after "a hose got out of hand" inside the production facility late Wednesday afternoon and sprayed Carter with hot water, causing areas of his skin to blister.
Francis said emergency personnel arrived within three minutes of the call to 911, who then requested LifeFlight, an air medical transport service, to fly out from Dallesport, Wash., and transport Carter to Legacy Emanuel Medical Center.
Hood River Police, Hood River Fire and EMS, and the Hood River County Sheriff's Office helped secure a landing zone on the concrete slab of Lot 1 on the Port of Hood River property, which is conveniently located directly across North Second Street from the Hood River Juice Company.
Smith said emergency personnel wrapped Carter in sterile burn sheets to prevent infection and gave him an IV before he was transported via ambulance across the street to the waiting helicopter.
Francis said Carter is "in good spirits" and that his prognosis for recovery is "very good," but noted that "until his injuries heal, he's going to have to stay at the hospital." He did not know specifically how long that would be.
Francis thanked emergency personnel for their fast response, which he credited as a factor that helped Carter.
"I think this could have been a lot worse had it not been for the quick response of city crews," he said.
"I guess I trained them well," Francis joked, who previously served as the Hood River city manager before moving to his current job last July.
Francis said the company has an internal safety committee that is currently in the process of investigating the incident, but that production is still "up and running."
Francis described Carter as a dedicated worker, whom he said called his crew at the juice company "to make sure things were still on schedule," less than 24 hours after he was burned.
"Knowing Carter, the minute he's out of the hospital, he'll show up for work," Francis said.