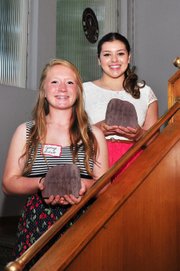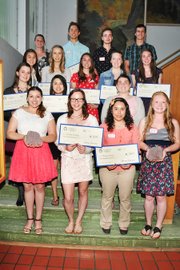 The 17th annual Student of the Year Banquet was held in the Hood River Elks Lodge ballroom on June 1. The 18 monthly award winners were honored for their volunteer efforts in the community as well as their academic and activities work at school.
Guest speaker was Tania Farman, founder of the Kiteboarding for Cancer Foundation and Athletes 4 Cancer, a nonprofit which runs adventure therapy camps for young cancer survivors. She gave a very impactful presentation about how a tragedy in her life helped make a dramatic change in the way she lived.
She spoke of three things that are important to her every day: To do what you love and enjoy; to inspire others; and to make a difference with what you do, and you will make the world a better place. She spoke of the rewards that come from volunteer work and the self-satisfaction you realize when helping others.
This year's winners were Sydney McHale and Stephanie Heidi Villalobos, who received $1,000 each; Anna Schlosser and Gabriella Whitehead, $600 each; and Tony Cohn and Austin Requa, $400 each.
Monthly monthly winners were Austyn Pozel, Kainalu Bailey, Madee Herman, Bailey Murahashi, Annie Veatch, Thania Torres, Delia Dolan, Naomi Greenwald, Allison Flashing, Elisabeth Webb, Frida Mata and Tabitha Merten.
The volunteer hours and efforts these students spend helping others in our community is priceless and it teaches them a good lesson in life. The Hood River Elks Lodge is proud to recognize them for their efforts and know they will continue to volunteer for others in the future. Volunteering: It's worth the time.