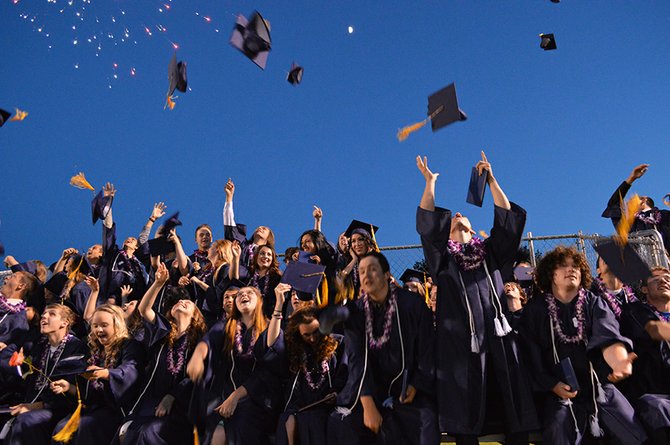 The Hood River Valley High School Class of 2014's motto is an oft-quoted lyric from John Lennon's 1971 hit "Imagine," that states: "You may think that I'm a dreamer, but I'm not the only one."
Photo Gallery
HRVHS Graduation 2014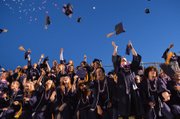 Images from HRV Graduation 2014
True, undoubtedly like the classes before them, the 246 members of the Class of 2014 have big dreams, but many of the student and faculty speeches touched on the realities of life as well as embracing the uncertainty of the future.
Logan, 84, graduates with honorary diploma
Most members of the Class of 2014 who took the stage during Hood River Valley High School's graduation on Friday were born in the mid-1990s, when President Bill Clinton was in office, Britpop was on the radio, and "Seinfeld" was one of the popular shows on television.
One graduate, however, was born in quite a different time, when Herbert Hoover was in the White House, orchestral and jazz music was all the rage, and public television broadcasts didn't yet exist.
Richard Logan, 84, received an honorary diploma from the school on Friday after HRVHS. Born in Parkdale in 1930, he attended school in the Hood River Valley until he dropped out after eighth grade.
Eventually, Logan enlisted in the military, where he fought in the Korean and Vietnam wars and actively served for 21 years. HRVHS Principal Rich Polkinghorn read a speech detailing Logan's life and thanking him for his years of service.
Logan didn't speak during the ceremony but cracked a smile when he received his diploma, which was met with uproarious applause and high-fives from the members of the Class of 2014 as Logan descended from the stage and returned to his seat.
Althea Dillon, one of the nine valedictorians who honored that evening for achieving a perfect 4.0 average their senior year, summed life succinctly with the opening student speech of the evening:
"There will be bridges to build, bridges to burn, and bridges to bungee jump from," she told the eager audience, who packed the high school's football field, stadium, and bleachers on what was a warm and pleasant June evening.
Supt. Dan Goldman spoke of coming to terms with living a "life without a net," and advised graduates to not despair if their dreams don't come true all at once.
"Sometimes you'll just be surviving," he said, "and that's okay."
Senior Class President Ben Dane had his classmates and the audience with a humorous and existential speech about what it means to be in high school, poking fun at such minutiae as the relevance of winter fire drills. Ultimately though, Dane said, the little things aren't little at all.
"It's those little things that will start the dominoes that will make you who you are in 20 years," he noted.
"High school is what you make of it with the limited time that you have here," Dane added.
Karla Galvez and Stephanie Villalobos read their speeches in Spanish to the audience and received applause. Foreign exchange students Joel Aberg (Sweden), Amalie Broecker (Denmark), Vilde Feten (Norway), Torbjoern Joerstad (Norway) and Martin Lanthaler (Italy), volunteers of the year Jonnie Anderson and Theo Parkinson, and students who received 4.0 averages were also recognized.
Polkinghorn also lauded the efforts of the parents.
"The time and energy and love you've provided for these kids the past 18 years is nothing short of spectacular," he said.
Also during the ceremonies, senior music students gave a performance of their class song, led by Music Director Mark Steighner, which was written by Justin Danner. The song acknowledged that the future is uncertain, but embraced that uncertainty with optimism.
"We don't know what is coming," students sang, "but we will hit the ground running."