Usually during summer, my family and I would take some vacations to Mexico or somewhere around the valley. This year we were in a hard financial situation. My dad decided that it was better to work instead of taking vacations spending the little money we had left.
I have a Mexican background. My dad is Mexican as well as my mom. They don't like to work anywhere else other than outdoors doing agricultural work.
My sophomore year was almost over at the beginning of this summer. When I got home from my last day of school Mom and Dad were packing our belongings in cardboard boxes. I was excited because I thought that we were going on vacation, but to my surprise it wasn't that way. We were going to California.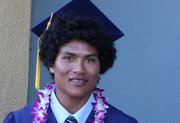 There wasn't any other option; I had to follow them. I was sad because agriculture is a difficult task to get through, especially in California where temperatures reach 100 degrees or more during the summer.
We took the cheapest way of travel for us to California, a bus. Our destination was Escondido; there we could pick oranges, lemons and avocados, then we would come back to Hood River and work picking pears, apples and blueberries all summer long.
We arrived at a labor camp; there were multiple families living there. Their homes were so small, without a kitchen, bathroom and heat.
A man received us; he showed us the place where we were staying. The place was way smaller than the other little houses and more deteriorated. The windows were small and broken, the floor was covered with cardboard, there was no bathroom, or kitchen. The only furniture in the house was a pair of old, stinky and dirty beds.
We got into our temporary new house. We did not even unpack anything. All the cardboard boxes with our belongings stayed next to the door. We lay on our beds and fell asleep, and woke up the following morning.
The bad thing about waking up is to have to do something right away. My family had to start working right away, even though we were still tired. My dad was really excited about working, but honestly I wanted to stay sleeping at the camp.
My parents and I worked from 6 a.m. to 5 p.m. and the day was really hot. Some people got sick from working and sweating too much. After working we didn't have any time left to do something fun as a family. Work, eat, take a shower and sleep became a routine for the three following weeks. Those three little weeks became an eternity for me; all I wanted was to be done, so I could go back to my real home.
After the three weeks of work we went back to Hood River. To my surprise, picking was just starting in Hood River. California had left us some money, but my dad said that it was not enough. My dad found work for the three of us close to our house. I spent the rest of my vacation picking pears. When the season ended my shoulders were killing me; the pain was just unbearable.
After all the work was done for the season and school was starting, I had a brief talk with my dad. He told me that he knew the pain I was going through, because he felt exactly the same. He also told me that he was proud of me because after all, I was a better picker than my dad and my mom together.
Working with my parents taught me important lessons about life and hard work.
I learned that orchard work isn't for stupid, poor, or Mexican people; it is for people that are hard workers and work under harsh conditions to give their families what they need. I also learned that if my dad worked in such conditions, it was because he loves me.
Alejandro Ornejas received his diploma June 6 as part of the Hood River Valley High School Class of 2014. He wrote this essay, entitled "Struggling," as part of Nan Noteboom's advanced writing class.