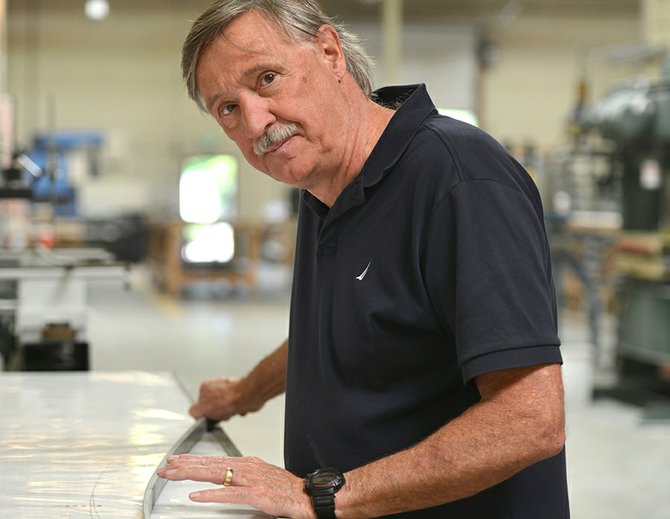 RBS Inc. — Robichaud Batten Systems — is flying under the radar, and that's how owner Romeo Robichaud likes it.
"It's a small industry, so everyone knows who we are and what we do," he said. "Being under the radar doesn't attract attention. Your competitors look at you and think you're not a threat."
Who they are and what they do is make yacht sailing battens, which are "the rib of a sail," Robichaud explained, and distribute them worldwide. These battens stand out — no matter how hard Robichaud tries to downplay that fact — because they're made using a special proprietary flexible epoxy resin matrix, which makes them "very, very flexible and less likely to break than our competitors," he explained.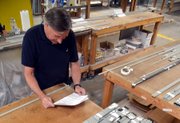 Robichaud works with sail designers to custom-taper each batten. "What we do is support the designers' designs," he said. "They have a sail plan and shape they want, and our battens support their shape. We don't try to override what they're trying to accomplish.
"The bottom line is that all we do is make sticks," he said.
Besides making battens for every large sail loft in the world, RBS sells to high-end programs like the Volvo Ocean Race, which happens every four years and attracts competitors from around the globe. "It's a grind," Robichaud said. "If your product is chosen, it means it will last."
RBS has been supplying battens for the race for the past 12 years, and is one of only two suppliers chosen this year.
"That's pretty important because the winner of the Volvo Race four years ago, they didn't break any of our battens in over 30,000 miles," he said. "That's a feather in our hat. It's really cool when they say they want to use your product."
Although Robichaud has been manufacturing battens exclusively since 1985, the business didn't start out in its current state. The progression has gone from surfboards, to skateboards, to skis, and then to windsurfing equipment.
It was only natural that he began with surfboards. When he was 3, Robichaud's family moved from Canada, where he was born, to Florida, where he grew up.
"Florida is where I started surfing. That was the demise of my life," he joked. "I turned into a beach bum."
Eventually he moved to San Diego, and by the early 1980s, he was manufacturing "all sorts of equipment" for the windsurfing industry, including boards, universals and fins.
"At that time, we were working for (designer) David Ezzy of North Sails, the largest sail maker in the world," he said. When Ezzy asked if he could start producing windsurfing battens, the company "ended up making nothing else for windsurfing," he said. "We dumped it all and just started doing battens in '85."
He began making windsurfing battens for "all the big boys" in the industry, including companies like Gaastra and NeilPryde. That lasted until the early 1990s, he said. "The whole industry was kind of falling apart, so we changed directions to yachting sails, just for boats."
The move has worked out just fine. RBS currently has 70 percent of the U.S. market and over 40 percent of the European market. And that doesn't include Australia or New Zealand.
One reason for his business' success is excellent customer service.
"Service is the key because there are other competitors out there, but I think we service our customer better than anyone else," Robichaud said. "That's what's missing in business today — people don't answer their phones. That's the first rule of business — you've got to answer your phone."
Although Hood River isn't necessarily the best place for Robichaud to run his business, he and his family moved here in 1992 after attending a few years' worth of Gorge Cup windsurfing events.
"All the designers would be here," he said of the races. "It would save me time. I'd go work with them while they were at the event. My wife (Melody) and I said, if we're going to move, we'll move to Hood River because of the lifestyle. We wanted to show (our kids) a different lifestyle than Southern California."
In the yachting industry, he'd be "better off in San Diego or San Francisco," Robichaud said, "only because that's the heart of sailing in America, where all the major customers are." He also faces higher expenses here, associated with both the cost of living and the cost of manufacturing, but, he reasoned, "I'd rather take less profit and live here."
And, he explained, you can live anywhere and make battens, as long as you live near a freeway and an international airport (both important for distribution), and have good Internet service for taking orders.
"As long as we can afford to manufacture here, we'll stay here," Robichaud said. "You have to be competitive in the world market. It's a commodity." He added that, while the cost of manufacture might someday get too expensive to continue in Hood River, he "would never go to China. I want to keep everything in the United States … but I would go to Italy," he laughed.
The most challenging part of the industry is simply trying to meet deadlines — sometimes he'll get a call on Monday for battens that need to be in, say, Spain by Friday.
But the "windustry," he said, is as a lifestyle choice. "That's why I'm still working, because I don't see it as work," he said.
He also sees it as the opportunity to provide quality service. "I've turned down lots of business people who want (battens) cheap cheap cheap, but it's not worth it to us to get into that market," he said.
His wasn't the first manufacturing business in Hood River — Dill Sailboards and Chinook were already here — but he was one of just a few. His business started out across the street from his current operation at 400 Portway Ave., in suite 101 — right next to the Event Site in the old Luhr Jensen building.
"The port offered us this location four years ago, and it's awesome," he said. "Salesmen come in here and don't want to leave."
The second generation of Robichauds have now entered into the business, with sons Tyson and Blaine. "We're now distributing high-end marine-grade rope from a friend of ours in Portugal called Alpha Ropes," he said. Tyson is in charge of that end of the business; Blaine handles customer service.
"We're just building battens, nothing special — except ours are special," Robichaud said.
It's probably not surprising that a man who makes sail battens for a living also sails. Although he hasn't sailed with the Hood River Yacht Club yet this year, he used to race every Wednesday night. "I do sail here, but I'm just not as competitive as I was," he said. "These guys are pretty aggressive out there, and I'm just too old," he joked.
Last year, he began sailing in Portland, and the experience is very different there than in Hood River, he said. For one thing, it's with a "one design" fleet — meaning all boats are created equal. For another, the sailing conditions vary.
"Heavy air is more exciting," he said of Hood River, "but light air is much more tactical. You've got to have a lot more finesse sailing light air."