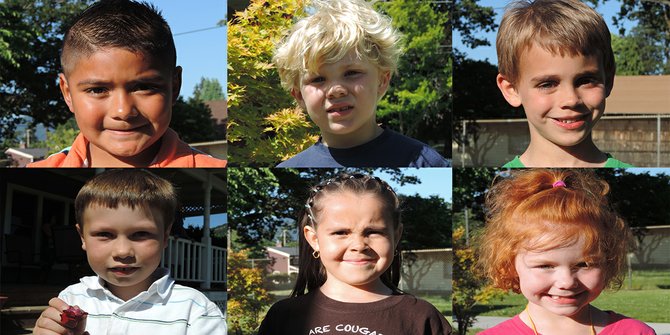 We begin "Tracks To '26," a living yearbook.
Meet Jess Aubert, Diego Bustos, Sofie Rodriquez Estrada, Trinity Evans, Jack Miller and Nicholas Tuttle, all age 6, graduates of kindergarten this week, and members of the high school Class of 2026.
What will "Tracks To '26" be? An experiment, really. As Sofie intuits, a metamorphosis.
These six Hood River County residents have agreed to be interviewed each year through 2026 for this unique, long-term chronicle. Each year we will ask them the same questions (with perhaps some adjustments down the road) starting in this issue, again in the fall, and each fall through 2025, the start of their high school senior years.
The intent of Tracks To '26 is to show the ideas, experiences, and life changes of six individuals, and gain some valuable insights into what all children think and feel during the cycle of years.
The Hood River News asked principals at all six elementary schools to suggest one student at each school. In early June Editor Kirby Neumann-Rea met with those students and their parents to talk about the project and get better acquainted. We thank the students and their parents for agreeing to participate in Tracks To '26; the fall 2014 interviews will contain family information and other details.
The first Tracks To '26 interviews were done on June 6, 10 and 11. We started by asking each youngster about a good thing that happened to them that day:
Nicholas Tuttle, Horizon Christian School: "Learning. I know how to read."
Diego Bustos, Westside: "I played with my brother." (Jorge, who is 9)
Trinity Evans, Cascade Locks: "Art. We made shape people."
Sofia Rodriguez, Mid Valley: "We get to watch 'Jack and the Beanstalk.'"
Jess Aubert, Parkdale: "At school, we made a necklace. A string and beads. It was fun."
Jack Miller, May Street: "I went to library."
These are the five questions of Tracks To '26 (interviewer's clarifying questions are in parenthesis):
What do you think of school right now? 2. What are your favorite things to do? 3. What is something that is a challenge for you right now? 4. What do you think you want to be when you are an adult? 5. What are your thoughts about the future?
Sofia Rodriguez Estrada
Pretty good. I meet new friends. I do a lot of math.
I like math. I know new stuff. I like to go to recess, and play soccer. I like to play soccer at Wy'east.
Writing big words. (What's an example?) Metamorphosis. Our teacher wrote it on the board and asked if we knew what it means. We guessed. (What does metamorphosis mean?) It's the egg and the chrysalis and the butterfly. It's the world of the butterfly.
Teacher. I want to teach kids.
Having bigger friends. I'll be 13, in the seventh grade. It'll be a little harder.
Nicholas Tuttle
It's fun. And it's fun to learn. It's fun to play outside with my friends."
Maybe five or six things: I like to play outside, and run outside, and play in the pool, and with my toys outside, and do slipping slide.
I have allergies and sometimes I cough a lot. And I kind of hurt my leg — but not bad. My foot. But that will go away. I bended it. I hit it and then bended it.
A baseball player, because I am a baseball player. My team is the Ducks. It's coach-pitch. I almost hit a home run. I made it to two bases
It's pretty fun. I think soon my friend Jordan is going to come to my house. He's never been there before. We're going to do Wii Jam. And then I'll go over to Jordan's house.
Diego Bustos
Good. I play with my friends outside. (What do you like to do outside?) Playing soccer. I like to color.
Playing soccer, at the school.
A hard thing to do is playing basketball. Because I throw the ball and I missed.
I want to drive an ambulance. (Why is that?) I saw a fire.
I will be a high schooler. I'm so excited.
Jess Aubert
It's good, because we did a lot of fun things. One of them was my first day of kindergarten. I was a little shy.
One of them is going to see Santa to tell him what we want, and computer lab at school. And the Easter bunny. Sometimes we get to play Zoom and sometimes we get to play KidPix and Starfall.
Sometimes in gym we play Dead Man's Rabbit. There's three people line up on a line, and you have to try to tag them when they run by and we become one of those guys. (What's an example of something that's hard for you?) One of them is sounding out big words. I tried to spell one word but I had to ask a teacher to help. (What word?) "Minecraft."
A Easter bunny — no. I want to be a ambulance driver. (Why is that?) I just saw one driving.
I can write fast. So I don't have to write slow. (Ever think about if you were a father or owned your own house?) I would have to do a lot of work. I would have to clean up. I want to work at the fruit stand one time. When people are not there, I would eat a cherry.
Jack Miller
It's really good. Because I get to play at school.
Ride my bike. Anywhere. (Family Man). (Any other favorite things?) No.
School. Because we do really tricky art. (How is it tricky?) Well, I can't really explain it. Paper and cutting. It's hard to do that stuff.
A policeman. (I don't really know.)
I don't really know about that. Do you wonder what life will be like 20 years from now. (What will Hood River look like 20 years from now?) The same.
Trinity Evans
Good friends. Everybody in my class is my friend.
Go to the park. The one at school. I like to play on the swings. I have a push before I pump myself. I like going to the beach and playing in the water. I'm a good swimmer.
Girls against boys. We do things girls against boys in class, for points. My teacher does it.
A doctor. I like to help kids.
I will have a job. I'll be happy. I like to work hard. It's fun.