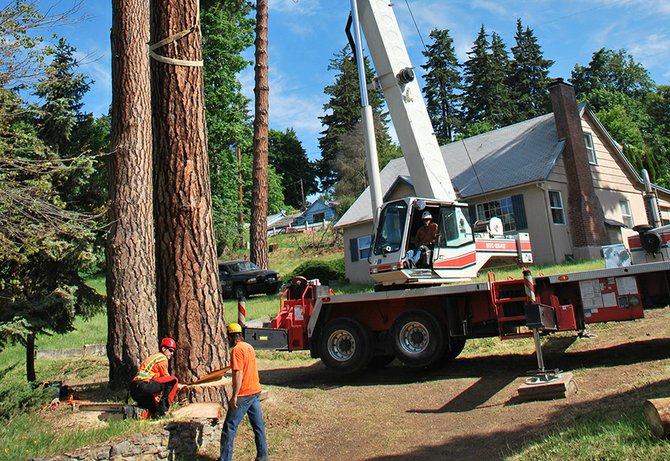 As Ponderosa pine trees throughout the Gorge continue to wither and redden due to the California Fivespined Ips another type of bark beetle has begun swarming and attacking Douglas fir trees, as well.
Trees that have been killed by the California Fivespined Ips are easy to distinguish throughout the Gorge due to the reddish hue they've taken on as "top kill" occurs. The Ips, a small, black, bullet-shaped beetle, was not found farther north than California prior to 2010, but has been lethal to many trees, like the ponderosa pine, throughout the Northwest since then.
But the Ips was never a threat to the Douglas fir. Now there is evidence that a new bark beetle that feasts exclusively on Douglas fir has started breeding in the Gorge.
"They're different species and they feed on different trees. Trees are pretty poisonous to eat, so these beetles have to be specialists," said Todd Murray, an extension agent with Washington State University's Extension Office in Klickitat and Skamania counties.
Like the Ips, the male Douglas-fir beetle burrows into the bark of a tree and digs a "nuptial chamber" where it emits pheromones to attract females. Up to three females visit the male and after mating dig further into the tree to lay their eggs.
Once those eggs hatch, larva feed on the tree, causing it to eventually die and exhibit the reddish hue that now dots hillsides throughout the Gorge.
Also similar to the Ips, the Douglas-fir beetle loves slash, or fresh wood material or broken branches on the ground. Murray said the outbreak of Douglas-fir beetles isn't a surprise due to the number of downed trees that stemmed from the ice storm that hit the Gorge in January 2012.
Picking up and either chipping or burning slash can prevent outbreaks from occurring, according to Murray.
"The beetles feed on larger-diameter trees, so when that ice storm knocked over a bunch of trees and that stuff hit the ground the beetles could infest them and build on their population. They usually only have one generation per year, so they developed on that downed material and moved on to the standing material," Murray said.
Though a verbenone to fool the female Ips into thinking nuptial chambers have already been occupied has not been developed, one has been created and proven to be effective against Douglas-fir beetles. Methylcyclohexane can be sprayed on Douglas fir trees that have not started to display signs of infestation to prevent bark beetles from burrowing in and starting the mating process.
For the trees that have already been infested, it's too late. Murray noted a few pockets of dead Douglas fir trees last fall, but since temperatures began warming he has noted more and more that have started to redden and dry out.
Workshops to go over land management and infestation prevention will be held throughout the Gorge this summer and fall, though no dates have been settled yet.